Coral Moon (#02 in Kanner Lake Series)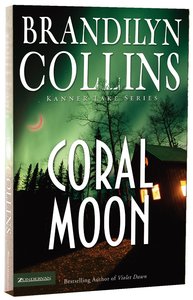 In book two of the Kanner Lake Series by Brandilyn Collins, a murder and a cryptic message plunge a small resort community in the wilds of northern Idaho into a terrifying encounter with the supernatural. And the solution appears to be one that can't be true … but must be.

The figure remained still as stone. Leslie couldn't even detect a breath.

Spider fingers teased the back of her neck.

Leslie's feet rooted to the pavement. She dropped her gaze to the driveway, seeking … what? Spatters of blood? Footprints? She saw nothing. Honed through her recent coverage of crime scene evidence, the testimony at last month's trial, the reporter in Leslie spewed warnings: Notice everything, touch nothing.

Leslie Williams hurries out to her car on a typical workday morning—and discovers a dead body inside. Why was the corpse left for her to find? And what is the meaning of the message pinned to its chest?

In Coral Moon, the senseless murder of a beloved Kanner Lake citizen spirals the small Idaho town into a terrifying glimpse of spiritual forces beyond our world. What appears true seems impossible.

Or is it

- Publisher
You May Also Be Interested In
About "Coral Moon (#02 in Kanner Lake Series)"
In book two of the Kanner Lake Series by Brandilyn Collins, a murder and a cryptic message plunge a small resort community in the wilds of northern Idaho into a terrifying encounter with the supernatural. And the solution appears to be one that can't be true … but must be.

The figure remained still as stone. Leslie couldn't even detect a breath.

Spider fingers teased the back of her neck.

Leslie's feet rooted to the pavement. She dropped her gaze to the driveway, seeking … what? Spatters of blood? Footprints? She saw nothing. Honed through her recent coverage of crime scene evidence, the testimony at last month's trial, the reporter in Leslie spewed warnings: Notice everything, touch nothing.

Leslie Williams hurries out to her car on a typical workday morning—and discovers a dead body inside. Why was the corpse left for her to find? And what is the meaning of the message pinned to its chest?

In Coral Moon, the senseless murder of a beloved Kanner Lake citizen spirals the small Idaho town into a terrifying glimpse of spiritual forces beyond our world. What appears true seems impossible.

Or is it
- Publisher


Meet the Author
Brandilyn Collins
Brandilyn Collins, known for her trademark "Seatbelt Suspense", is the bestselling author of Eyes of Elisha, Brink of Death, Dead of Night, Web of Lies, Violet Dawn, and many other exciting novels, most recently Coral Moon. Her fast-paced, character-driven crime thrillers weave unpredictable plots with the message of God's grace and power. Brandilyn has also written a distinctive book on fiction-writing techniques, Getting Into Character: Seven Secrets a Novelist Can Learn From Actors. Between writing novels, she teaches the craft of writing at writers' conferences.
Customer Reviews For "Coral Moon (#02 in Kanner Lake Series)"
Write Your Own Review
Don't Read On A Dark And Stormy Night!
By Cheri Clay,

Dec 11 2007
If you love mystery, intrigue and suspense than hold onto your seat as author Brandilyn Collins gives you a glimpse of the unseen realm of demonic forces and how God places prayer on the hearts of His people even those who question who He is and has everyone looking to the pastor for guidance. 

Coral Moon is the second book of the author?s new series, the first being Violet Dawn all revolve around the sleepy little Town of Kenner Lake. Brandilyn Collins has a way with words so much so that you find yourself not being able to put down this awesome page turner. The characters jump right off the page at you, characters or people you feel you know and become entangled in their lives.

If you?re new to Brandilyn Collins as this reviewer is you?ll find yourself wanting to read all ten of her other 3 series of books, while waiting in anticipation as to what is in store next for the people of Kenner Lake in the third book Crimson Eve. Word of advice don?t read Coral Moon alone on a dark and stormy night! 

{{review.title}}
By {{review.author.name}},

{{review.reviewCreatedDate | date:'MMM dd yyyy'}}

{{reviewdescription}}
{{review.text}}
---
Other Titles In The "Kanner Lake Series" Series View All