Countdown For Couples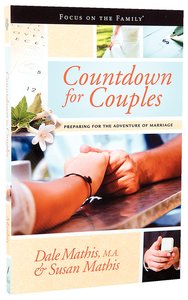 In this easy-to-use guide, premarital counsellors Dale and Susan Mathis give engaged couples a detailed preview of what it takes to build a successful marriage. Here is candid, expert guidance on every aspect of married life - spiritual, emotional, physical, and financial.
You May Also Be Interested In
About "Countdown For Couples"
In this easy-to-use guide, premarital counsellors Dale and Susan Mathis give engaged couples a detailed preview of what it takes to build a successful marriage. Here is candid, expert guidance on every aspect of married life - spiritual, emotional, physical, and financial.
- Koorong

Marriage is an adventure-are you ready? Research and common sense indicate that engaged couples will have stronger, more successful marriages if they participate in premarital counseling. Yet with all the planning that goes into a wedding, this important preparation can often be overlooked. Authors Dale and Susan Mathis work with couples in premarital counseling. They know the issues of greatest interest and importance to engaged couples, and their counsel has been tested and proved effective. Countdown for Couples delivers this insight in an easy-to-use format and tackles important questions, such as: Are you ready for a lifelong commitment? What should you expect in your marriage? How do you resolve an argument? How do you navigate your financial life? Why is family such a challenge? Interesting sidebars from other marriage experts discuss the spiritual, emotional, relational, and physical intricacies of being married and provide extensive resources for continued marital education and growth. Before you enter the adventure of marriage, open the map and see where you're going.
- Publisher

Research and common sense indicate that engaged couples will eventually have stronger, more successful marriages if they get good premarital counseling. Many churches now require such counseling, yet many Christian couples still enter marriage without that preparation. "Countdown for Couples" will fill that void. It will help couples learn about each other, and themselves individually, as well as their relational skills and compatibility as a couple.
- Publisher