Countdown to the Apocalypse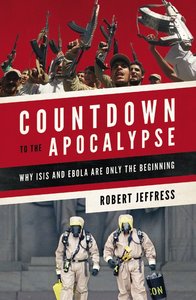 :ISIS. Ebola. Social disorder. Religious persecution. Rampant immorality. Are these the harbingers of the biblical apocalypse, of the end of the world? If they are, what do they mean and when can we expect this to happen? In this eye-opening book, prophecy insider Robert Jeffress offers a reasoned look at these "signs" and what Jesus Christ himself meant when he talked about a future so horrendous that no human lives would be spared "unless those days were shortened" (Matthew 24.22). Did He have our time in mind? All over the world people are aware that something unprecedented in human history is about to happen. COUNTDOWN TO THE APOCALYPSE presents vital information that everyone, both inside and outside the church, needs to know to be prepared.



- Publisher
You May Also Be Interested In
About "Countdown to the Apocalypse"
:ISIS. Ebola. Social disorder. Religious persecution. Rampant immorality. Are these the harbingers of the biblical apocalypse, of the end of the world? If they are, what do they mean and when can we expect this to happen? In this eye-opening book, prophecy insider Robert Jeffress offers a reasoned look at these "signs" and what Jesus Christ himself meant when he talked about a future so horrendous that no human lives would be spared "unless those days were shortened" (Matthew 24.22). Did He have our time in mind? All over the world people are aware that something unprecedented in human history is about to happen. COUNTDOWN TO THE APOCALYPSE presents vital information that everyone, both inside and outside the church, needs to know to be prepared.


- Publisher


Meet the Author
Robert Jeffress
Dr Robert Jeffress is the senior pastor of First Baptist Dallas. A graduate of Dallas Theological Seminary and Southwest Baptist Theological Seminary, he has written more than twenty books. His daily radio program, Pathway to Victory, is heard on more than nine hundred stations nationwide, and his weekly television program is seen on more than ten thousand cable systems and stations in the United States and in nearly two hundred countries around the world. Known for his bold, biblical stands on cultural issues, Jeffress has been interviewed on more than two thousand radio and TV programs, including Good Morning America, CBS This Morning, Fox & Friends, MSNBC, CNN, Real Time with Bill Maher, Hardball with Chris Matthews, and The O'Reilly Factor. He is the author of more than twenty books, including Not All Roads Lead to Heaven. Dr Jeffress and his wife, Amy, are the parents of two adult daughters, and live in Dallas, TX.