Counterattack (#04 in Robot Wars Series)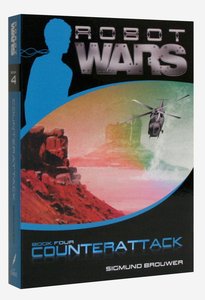 $

9.99

$

7.99
You Save: $2.00 (20%)
Paperback
Set at an experimental community on Mars in the year 2039-2040, Robot Wars features 14-year-old virtual reality specialist Tyce Sanders. Life on the Red Planet is not always easy, but it is definitely exciting. As Tyce explores his strange surroundings, he finds that the mysteries of the planet point to his greatest discovery-a new relationship with God. He talks about his growing faith and curiosity in a manner that kids can relate to as they are probably wondering some of the same things. $lt;br>Book four, $lt;i>Counterattack,$lt;/i> opens with Tyce and some of the Mars Project's staff captured in a prison; they end up in prison while carrying out a special mission on Earth. Tyce has to figure out a way to fulfill their mission and rescue kids-all before a world war breaks out.

- Publisher
You May Also Be Interested In
About "Counterattack (#04 in Robot Wars Series)"
Set at an experimental community on Mars in the year 2039-2040, Robot Wars features 14-year-old virtual reality specialist Tyce Sanders. Life on the Red Planet is not always easy, but it is definitely exciting. As Tyce explores his strange surroundings, he finds that the mysteries of the planet point to his greatest discovery-a new relationship with God. He talks about his growing faith and curiosity in a manner that kids can relate to as they are probably wondering some of the same things. $lt;br>Book four, $lt;i>Counterattack,$lt;/i> opens with Tyce and some of the Mars Project's staff captured in a prison; they end up in prison while carrying out a special mission on Earth. Tyce has to figure out a way to fulfill their mission and rescue kids-all before a world war breaks out.
- Publisher


Meet the Author
Sigmund Brouwer
Sigmund Brouwer is the award-winning author of scores of books, from youth fiction to adult thrillers. His books has been lauded in publications such as Library Journal and Booklist and he has received the Alberta Film and Literary Arts Writing Grant twice. He speaks at schools, home-schooling conventions, writing camps and seminars to provide encouragement to reluctant readers and writers and to encourage youth to follow their dreams of a career in writing. He co-founded The Young Writer's Institute with education expert Debra Bell. Brouwer teaches writing courses at Red Deer College. Brouwer, his wife and daughter divide their time between Tennessee and Alberta.- Publisher.
Other Titles In The "Robot Wars Series" Series View All