Counterfeit Revival (Expanded &)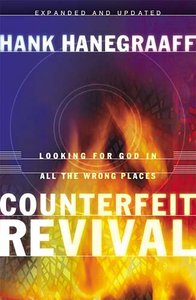 Hank Hanegraaff documents the danger of looking for God in all the wrong places and goes behind the scenes into the wildly popular and bizarre world of contemporary revivalism.Hanegraaff masterfully exposes the stark contrast between these deeds of the flesh and a genuine work of the Spirit by contrasting modern "revivals" with the scriptural examples of God's movement among His people.

- Publisher 320 Pages

- Publisher
You May Also Be Interested In
About "Counterfeit Revival (Expanded &)"
Hank Hanegraaff documents the danger of looking for God in all the wrong places and goes behind the scenes into the wildly popular and bizarre world of contemporary revivalism.Hanegraaff masterfully exposes the stark contrast between these deeds of the flesh and a genuine work of the Spirit by contrasting modern "revivals" with the scriptural examples of God's movement among His people.
- Publisher

320 Pages
- Publisher


Meet the Author
Hank Hanegraaff
Hank Hanegraaff serves as the president of the California-based Christian Research Institute. He has also worked as the host of the Bible Answer Man radio broadcast in the United States and Canada. He is the author of such books as Counterfeit Revival, Crisis in Christianity and Resurrection and was general editor in the updating of Dr. Walter Martin's classic The Kingdom of the Cults. Also a regular contributor to the Christian Research Journal, Hanegraaff conducts seminars and lectures worldwide. He lives in Charlotte, North Carolina.