Courting Miss Amsel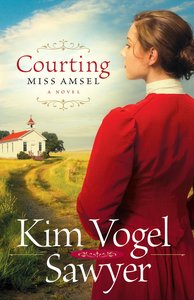 Edythe Amsel is delighted with her first teaching assignment: a one-room schoolhouse in Walnut Hill, Nebraska. Independent, headstrong, and a strong believer in a well-rounded education, Edythe is ready to open the world to the students in this tiny community. But is Walnut Hill ready for her?

Joel Townsend is thrilled to learn the town council hired a female teacher to replace the ruthless man who terrorized his nephews for the past two years. Having raised the boys on his own since their parents' untimely deaths, Joel believes they will benefit from a woman's influence. But he sure didn't bargain on a woman like Miss Amsel. Within the first week, she has the entire town up in arms over her outlandish teaching methods, which include collecting leaves, catching bugs, making snow angels, and stringing ropes in strange patterns all over the schoolyard. Joel can't help but notice that she's also mighty pretty with her rosy lips, fashionable clothes, and fancy way of speaking.

When Edythe decides to take her pupils to hear Miss Susan Anthony speak on the women's suffrage amendment, the town's outcry reaches new heights. Even Joel isn't sure he can support her newfangled ideas any longer. And if he can't trust her to know how to teach the boys, how can he trust her with his heart?

- Publisher
You May Also Be Interested In
About "Courting Miss Amsel"
Edythe Amsel is delighted with her first teaching assignment: a one-room schoolhouse in Walnut Hill, Nebraska. Independent, headstrong, and a strong believer in a well-rounded education, Edythe is ready to open the world to the students in this tiny community. But is Walnut Hill ready for her?

Joel Townsend is thrilled to learn the town council hired a female teacher to replace the ruthless man who terrorized his nephews for the past two years. Having raised the boys on his own since their parents' untimely deaths, Joel believes they will benefit from a woman's influence. But he sure didn't bargain on a woman like Miss Amsel. Within the first week, she has the entire town up in arms over her outlandish teaching methods, which include collecting leaves, catching bugs, making snow angels, and stringing ropes in strange patterns all over the schoolyard. Joel can't help but notice that she's also mighty pretty with her rosy lips, fashionable clothes, and fancy way of speaking.

When Edythe decides to take her pupils to hear Miss Susan Anthony speak on the women's suffrage amendment, the town's outcry reaches new heights. Even Joel isn't sure he can support her newfangled ideas any longer. And if he can't trust her to know how to teach the boys, how can he trust her with his heart?
- Publisher


Meet the Author
Kim Vogel Sawyer
Bestselling, award-winning author Kim Vogel Sawyer wears many hats besides 'writer.' As a wife, mother, grandmother, and active participant in her church, her life is happily full. But Kim's passion lies in writing stories of hope that encourage her readers to place their lives in God's capable hands. An active speaking ministry assists her with her desire. Kim and her husband make their home on the beautiful plains of Kansas, the setting for many of Kim's novels.
Customer Reviews For "Courting Miss Amsel"
Write Your Own Review
Courting Miss Amsel
By Jenny Skinner,

Oct 12 2014
A teacher by trade, I enjoyed the ups and downs Miss Edythe Amsel as she struggled to maintain discipline and provide sound educational outcomes for her students in a remote one teacher school. Even without a teaching background I am sure that all readers will be able to relate to either mischievous classmates, lunch time bullying, adoration of favourite teacher or pleasure in participating in school musicals, Christmas pageants or awards night.
However Courting Miss Amsel is much more than a recount of school adventures. It is a story of heartache, responsibility and a journey towards love. A small ember of  faith in God is found and nurtured  resulting in a life given over to the joy of being loved and carried by a heavenly father. 
Another faith filled story by Kim Vogel Sawyer.
---
Lovely Look at Small Town Communities
By Margot,

May 10 2014
I always enjoy Kim Vogel Sawyer's writing - such excellent character development, such lovable characters, such spiritual insight. Things I especially enjoyed about Courting Miss Amsel were that despite attraction, Joel would not consider a relationship with anyone who did not share his faith. Edythe's journey to faith was beautifully told. Wise, old Mrs. Kinsley, the landlady, gave good advice, lots of love and threw in just enough matchmaking to make it interesting. there was also an interesting look at how small town communities cope with change (in this case in education styles and agricultural techniques), bullies (in both the school and the adult community), and the rise of women's suffrage. So we learn, we love, we are entertained, challenged and inspired - what more can we ask of a book?
{{review.title}}
By {{review.author.name}},

{{review.reviewCreatedDate | date:'MMM dd yyyy'}}

{{reviewdescription}}
{{review.text}}
---