Creating An Intimate Marriage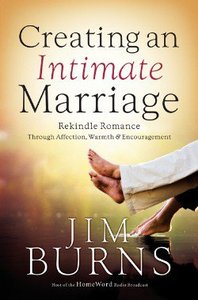 A Marriage Full of A.W.E. If you think intimacy in marriage is an impossible goal, think again. Even if your relationship is the high maintenance variety, you can still find that meaningful connection you are seeking by cultivating three important ingredients in your relationship: Affection, Warmth, and Encouragement--AWE. Sharing personal stories of both success and failure, Jim Burns' candid and vulnerable style will encourage you to work toward rekindling the fires of your romance, no matter how chilly the coals may have grown. Important areas discussed include communication, sexuality, friendship, forgiveness, worship, attitudes, and priorities. This is not a pie-in-the-sky approach to marriage. The challenges of everyday life with a spouse are faced head-on by someone who has not only experienced them himself but also coached hundreds of other couples and individuals in their struggles. The practical help he offers will equip you to tackle the real-life issues of marriage and fin

- Publisher "Written by the host of the HomeWord radio broadcast, this book examines how A.W.E. (Affection, Warmth, and Encouragement) can transform any marriage relationship, providing a solid foundation for an intimate and fulfilling life together. Incorporating biblical principles with personal testimony, it offers help to couples of all ages"--Provided by publisher.

- Publisher Jim Burns wants every couple to experience a marriage filled with A.W.E.: affection, warmth, and encouragement. He shows husbands and wives how to make their marriage their priority as they discover ways to repair the past, communicate and resolve conflict, refresh their marriage spiritually, and more. Creating An Intimate Marriage is for couples who want their marriage to thrive, and Burns offers real solutions for real-life marriage issues.

- Publisher
You May Also Be Interested In
About "Creating An Intimate Marriage"
A Marriage Full of A.W.E. If you think intimacy in marriage is an impossible goal, think again. Even if your relationship is the high maintenance variety, you can still find that meaningful connection you are seeking by cultivating three important ingredients in your relationship: Affection, Warmth, and Encouragement--AWE. Sharing personal stories of both success and failure, Jim Burns' candid and vulnerable style will encourage you to work toward rekindling the fires of your romance, no matter how chilly the coals may have grown. Important areas discussed include communication, sexuality, friendship, forgiveness, worship, attitudes, and priorities. This is not a pie-in-the-sky approach to marriage. The challenges of everyday life with a spouse are faced head-on by someone who has not only experienced them himself but also coached hundreds of other couples and individuals in their struggles. The practical help he offers will equip you to tackle the real-life issues of marriage and fin
- Publisher

"Written by the host of the HomeWord radio broadcast, this book examines how A.W.E. (Affection, Warmth, and Encouragement) can transform any marriage relationship, providing a solid foundation for an intimate and fulfilling life together. Incorporating biblical principles with personal testimony, it offers help to couples of all ages"--Provided by publisher.
- Publisher

Jim Burns wants every couple to experience a marriage filled with A.W.E.: affection, warmth, and encouragement. He shows husbands and wives how to make their marriage their priority as they discover ways to repair the past, communicate and resolve conflict, refresh their marriage spiritually, and more. Creating An Intimate Marriage is for couples who want their marriage to thrive, and Burns offers real solutions for real-life marriage issues.
- Publisher


Meet the Author
Jim Burns
Jim Burns founded the ministry of HomeWord in 1985 with the goal of bringing help and hope to struggling families. As host of the radio broadcast, HomeWord with Jim Burns, which is heard daily by more than one million listeners, Jim's passion is to build God-honoring families through communicating practical truths that will enable adults and young people alike to live out their Christian faith. In addition to the radio program, Jim speaks to thousands around the world each year through seminars and conferences. He is an award-winning author, whose books include The 10 Building Blocks for a Happy Family and Devotions on the Run.