Creation: Facts of Life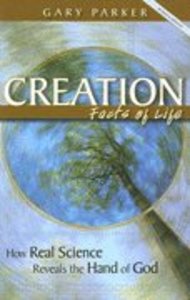 Dr. Gary Parker, a former non-Christian and evolutionist, joined the staff of Answers in Genesis in 1996 as senior lecturer. For 12 years he served on the science faculty of the Institute for Creation Science in San Diego, California. He has published ten textbooks, lectured worldwide on creation, and appeared in numerous films and on television.

- Publisher Dr. Gary Parker, leading creation scientist and speaker, presents the classic arguments for evolution used in public schools, universities, and the media and refutes them in an entertaining and easy-to-read style. A must for students and teachers alike. Revised and Updated

- Publisher
You May Also Be Interested In
About "Creation: Facts of Life"
Dr. Gary Parker, a former non-Christian and evolutionist, joined the staff of Answers in Genesis in 1996 as senior lecturer. For 12 years he served on the science faculty of the Institute for Creation Science in San Diego, California. He has published ten textbooks, lectured worldwide on creation, and appeared in numerous films and on television.
- Publisher

Dr. Gary Parker, leading creation scientist and speaker, presents the classic arguments for evolution used in public schools, universities, and the media and refutes them in an entertaining and easy-to-read style. A must for students and teachers alike. Revised and Updated
- Publisher


Meet the Author
Gary Parker
Gary E. Parker is the best-selling author of ten novels and three novellas, including "Secret Tides" and "Fateful Journeys". A Christy Award finalist, Parker has become CBA's source for sweeping sagas of faith and family. A PhD graduate of Baylor University, he serves as the senior pastor of the First Baptist Church of Decatur, Georgia, and lives there with his wife, Melody, and daughters, Andrea and Ashley.