Creation Or Evolution: Do We Have to Choose? (New Edition, And Expanded 2014)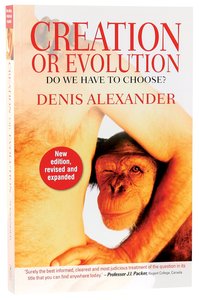 Few issues engender so much heat between Christians as the relationship between creation and evolution. Questions such as 'what do you think about Adam and Eve?' or 'what about death before the Fall?' lead all too quickly to entrenched positions. Reasonable, calm, and supremely well informed, this is a book written by someone who is passionate about both science and the Bible. 'I hope,' says Denis Alexander, 'that reading it will encourage you to believe, as I do, that the "Book of God's Word" and the "Book of God's Works" can be held firmly together in harmony.'

- Publisher
You May Also Be Interested In
About "Creation Or Evolution: Do We Have to Choose? (New Edition, And Expanded 2014)"
Few issues engender so much heat between Christians as the relationship between creation and evolution. Questions such as 'what do you think about Adam and Eve?' or 'what about death before the Fall?' lead all too quickly to entrenched positions. Reasonable, calm, and supremely well informed, this is a book written by someone who is passionate about both science and the Bible. 'I hope,' says Denis Alexander, 'that reading it will encourage you to believe, as I do, that the "Book of God's Word" and the "Book of God's Works" can be held firmly together in harmony.'
- Publisher


Meet the Author
Denis Alexander
Dr Denis Alexander is the Director of the Faraday Institute for Science and Religion, St. Edmunds College, Cambridge, where he is a Fellow. Dr Alexander was previously Head of the Laboratory of Lymphocyte Signalling and Development at The Babraham Institute, Cambridge. He is the author of Rebuilding the Matrix (Lion), co-author of Beyond Belief, Science, Faith and Ethical Challenges (Lion) and Editor of the journal, Science and Christian Belief.
Koorong -Editorial Review.