Creation (Problems In Theology Series)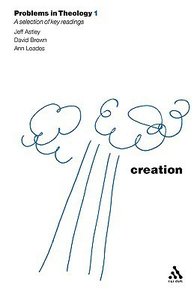 This reader brings together modern material from a wide range of Christian theologians on the meaning and status of the doctrine of creation; its relation to scientific theories, our understanding of God and the theology of redemption; and its implications for our proper attitude to the world of nature.;Process theology, the Gaia hypothesis, New Age spirituality and pantheism are among the range of topics that are introduced and critiqued. Contributors include Carol Adams, Karl Barth, Teilhard de Chardin, Celia Deane-Drummond, Colin Gunton, Jurgen Moltmann, Schubert Ogden and John Polkinghorne.

- Publisher
You May Also Be Interested In
About "Creation (Problems In Theology Series)"
This reader brings together modern material from a wide range of Christian theologians on the meaning and status of the doctrine of creation; its relation to scientific theories, our understanding of God and the theology of redemption; and its implications for our proper attitude to the world of nature.;Process theology, the Gaia hypothesis, New Age spirituality and pantheism are among the range of topics that are introduced and critiqued. Contributors include Carol Adams, Karl Barth, Teilhard de Chardin, Celia Deane-Drummond, Colin Gunton, Jurgen Moltmann, Schubert Ogden and John Polkinghorne.
- Publisher


Meet the Authors
Jeff Astley (Ed)
Revd Jeff Astley (Ph.D., University of Durham) is Honorary Professorial Fellow in Practical Theology and Christian Education, University of Durham. He was appointed as Founding Director of the North of England Institute for Christian Education in 1981; he previously worked in parish ministry, university chaplaincy and higher education.
His publications include The Philosophy of Christian Religious Education; Theological Perspectives on Christian Formation; Choosing Life? Christianity and Moral Problems; Learning in the Way: Research and Reflection on Adult Christian Education; Children, Churches and Christian Learning; Ordinary Theology: Looking, Listening and Learning in Theology; Exploring God-Talk: Using Language in Religion and Christ of the Everyday.
David Brown
Professor David Brown FBA was the Van Mildert Professor of Divinity in the Department of Theology and Religion at the University of Durham. His publications include The Divine Trinity; Continental Philosophy and Modern Theology; Tradition and Imagination; Discipleship and Imagination; God and Enchantment of Placeand God and Grace of Body.
Ann Loades (Ed)
Ann Loades is Professor Emeritus of Theology at Durham University in England.
Table Of Contents
Preface; Introduction: Reading The Readings; 1. Creation: What Does It Mean? 1.1 Creation In The Old Testament; 1.2 Making And Emanation; 1.3 On Beginnings; 1.4 Continuous Creation; 1.5 First And Final Causes; 1.6 Origins And Ends, Space And Completion; 1.7 Evolution, Chance And Direction; 1.8 Determinism, Openness And The Spirit; 1.9 Creation, Myth And Theology; 2. Process Theology: A More Engaging God? 2.1 Overview: A Dynamic God; 2.2 The Metaphysics Of God; 2.3 Tensions And Criticisms; 3. God Or Gaia? The Environmental Challenge; 3.1 Earthy Spirituality; 3.2 Gaia And Theology; 3.3 Attitudes To Nature; 3.4 Cosmic Relationships; 3.5 Against Pantheism And Naturism; 4. Christian Creation? 4.1 Creation In The New Testament; 4.2 Creation In Barth; 4.3 Redemptive, Directive Creation; 4.4 Creation After Barth; 4.5 The Goal Of Creation; 4.6 Creation, Sacrament And Symbol; 4.7 A Christian Meditation On Creation; Further Reading; Topics For Discussion And Study; Acknowledgements; Index Of Subjects; Index Of Names
Other Titles In The "Problems In Theology" Series View All