Creation Untamed: The Bible, God, and Natural Disasters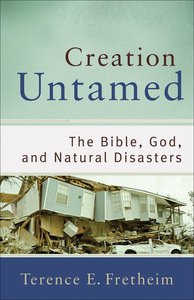 Earthquakes, floods, tsunamis, and hurricanes have plagued the history of the earth. What is God's role in natural disasters and the human suffering they cause? This is one of the most vexing questions in Christian life and theology. Terence Fretheim offers fresh readings of familiar Old Testament passages--such as creation, the flood, and the suffering of Job--to give readers biblical resources for working through this topic. He shows the God of the Bible to be a compassionate, suffering, relational God, one we can turn to in prayer in times of disaster.

- Publisher
You May Also Be Interested In
About "Creation Untamed: The Bible, God, and Natural Disasters"
Earthquakes, floods, tsunamis, and hurricanes have plagued the history of the earth. What is God's role in natural disasters and the human suffering they cause? This is one of the most vexing questions in Christian life and theology. Terence Fretheim offers fresh readings of familiar Old Testament passages--such as creation, the flood, and the suffering of Job--to give readers biblical resources for working through this topic. He shows the God of the Bible to be a compassionate, suffering, relational God, one we can turn to in prayer in times of disaster.
- Publisher


Meet the Author
Terence E Fretheim
Terence E. Fretheim (Ph.D., Princeton Seminary) is Elva B. Lovell Professor of Old Testament at Luther Seminary, St. Paul, MN. He is interested in biblical-theological issues and their implications for the faith and life of the church. He is author of numerous articles and books, including The Suffering of God: An Old Testament Perspective, and commentaries on Genesis (New Interpreter's Bible Commentary), Exodus (Interpretation), Jeremiah: A Commentary (Smyth & Helwys) and Abraham: Journeys of Family and Faith (University of South Carolina Press).
Koorong -Editorial Review.