Creative Bible Lessons in 1&2 Corinthians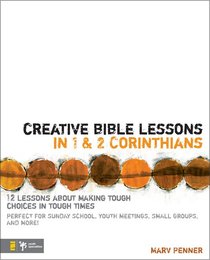 Christian adolescents in the 21st century face pretty much the same situations as the first-century Christians in Corinth did -- an indulgent, profligate, choose-your-own-god society. The latest in the Creative Bible Lessons series, Creative Bible Lessons in 1 & 2 Corinthians is a 12-lesson curriculum with an issues-oriented spin on living one's faith in the real world. It lets teenagers wrestle with the tension between biblical instruction and cultural realities. These 12 studies about the not-so-easily-tamed people of Corinth and their founding pastor Paul of Tarsus pave the way for youth workers and Sunday school teachers to teach high schoolers about conversion, transformation, failure, leadership, authority, and God's constant saving love even in the midst of people making a mess of things. Here are some of the not-so-ancient issues you'll explore in this study: Give Me Liberty or Give Me Love, Friends Don't Let Friends Go Unforgiven, Those Pesky STDs (Sexually Tough Decisions),

- Publisher
You May Also Be Interested In
About "Creative Bible Lessons in 1&2 Corinthians"
Christian adolescents in the 21st century face pretty much the same situations as the first-century Christians in Corinth did -- an indulgent, profligate, choose-your-own-god society. The latest in the Creative Bible Lessons series, Creative Bible Lessons in 1 & 2 Corinthians is a 12-lesson curriculum with an issues-oriented spin on living one's faith in the real world. It lets teenagers wrestle with the tension between biblical instruction and cultural realities. These 12 studies about the not-so-easily-tamed people of Corinth and their founding pastor Paul of Tarsus pave the way for youth workers and Sunday school teachers to teach high schoolers about conversion, transformation, failure, leadership, authority, and God's constant saving love even in the midst of people making a mess of things. Here are some of the not-so-ancient issues you'll explore in this study: Give Me Liberty or Give Me Love, Friends Don't Let Friends Go Unforgiven, Those Pesky STDs (Sexually Tough Decisions),
- Publisher


Meet the Author
Marv Penner
Marv Penner is a youth ministry expert with more than 30 years in the field, chairs the youth and family ministry department at Briercrest Graduate School in Saskatchewan, Canada. He's also director of the Canadian Centre of Adolescent Research and author of The Youth Worker's Guide to Parent Ministry, Help! My Kids Are Hurting and Hope and Healing for Kids Who Cut.