Creative Ministry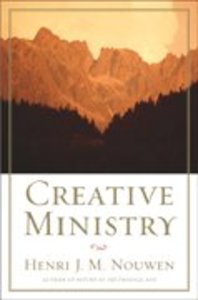 According to Henri Nouwen, the bestselling spiritual writer, every Christian is a minister—trying to live his life in the light of the Gospel. Creative Ministry is a thoughtful examination of the various complex tasks that are part of that way of life.Separate chapters treat each of the five areas that Nouwen considers the primary responsibilities of the minister: teaching, preaching, counseling, organizing, and celebrating. He shows how these main functions are inextricably tied to the minister's spiritual life and why they must be directed toward a creative dialogue with other Christians if they are to be rewarding. It is also essential, he maintains, that the minister leave himself open, take risks, and "lay down his life for his friends" in order to give new life."There is today a great hunger for a new spirituality," observes Nouwen, a hunger that requires new and creative forms of ministry. Citing numerous examples from his rich experience, the author offers practical advice for infusing daily pastoral work with meaning. The result is an insightful presentation and a resonant spiritual guide for every man and woman who wants to be of service.

- Publisher
You May Also Be Interested In
About "Creative Ministry"
According to Henri Nouwen, the bestselling spiritual writer, every Christian is a minister—trying to live his life in the light of the Gospel. Creative Ministry is a thoughtful examination of the various complex tasks that are part of that way of life.Separate chapters treat each of the five areas that Nouwen considers the primary responsibilities of the minister: teaching, preaching, counseling, organizing, and celebrating. He shows how these main functions are inextricably tied to the minister's spiritual life and why they must be directed toward a creative dialogue with other Christians if they are to be rewarding. It is also essential, he maintains, that the minister leave himself open, take risks, and "lay down his life for his friends" in order to give new life."There is today a great hunger for a new spirituality," observes Nouwen, a hunger that requires new and creative forms of ministry. Citing numerous examples from his rich experience, the author offers practical advice for infusing daily pastoral work with meaning. The result is an insightful presentation and a resonant spiritual guide for every man and woman who wants to be of service.
- Publisher


Meet the Author
Henri Nouwen
The internationally renowned priest and author, respected professor and beloved pastor Henri Nouwen wrote over 40 books on the spiritual life. He corresponded regularly in English, Dutch, German, French and Spanish with hundreds of friends and reached out to thousands through his Eucharistic celebrations, lectures and retreats. Since his death in 1996, ever-increasing numbers of readers, writers, teachers and seekers have been guided by his literary legacy. Nouwen's books have sold over two million copies and been published in over 22 languages. His books include The Return Of The Prodigal Son, Here And Now: Living In The Spirit, In The Name Of Jesus: Reflections On Christian Leadership.- Publisher.