Critical Pursuit (#01 in Brinna Caruso Collection Series)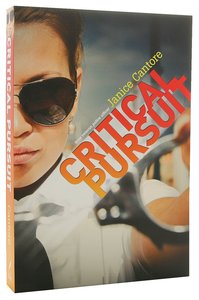 Officer Brinna Caruso has built a reputation at the precinct as the cop to call when a child goes missing. For Brinna, it?s personal because she was once one of them. Brinna and her K-9 search and rescue dog, Hero, will stop at nothing to find a missing child, no matter the stakes.

Detective Jack O?Reilly isn?t ready to return to his homicide duties, after losing his wife to a drunk driver. He?s on the downside of his career, and bent on revenge, when he?s assigned as Brinna?s partner. While on patrol, Jack struggles between his quest for personal justice and his responsibility to those around him, especially his partner.

Skeptical of Jack?s motives, Brinna isn?t sure she can rely on her new partner, whose reckless abandon endangers the safety of those around him. But when a man surfaces with an MO similar to the criminal who abducted Brinna twenty years earlier, Brinna and Jack must cast aside previous judgments and combine efforts to catch the kidnapper, and finally allow Brinna the peace stolen from her as a child.

- Publisher
You May Also Be Interested In
About "Critical Pursuit (#01 in Brinna Caruso Collection Series)"
Officer Brinna Caruso has built a reputation at the precinct as the cop to call when a child goes missing. For Brinna, it?s personal because she was once one of them. Brinna and her K-9 search and rescue dog, Hero, will stop at nothing to find a missing child, no matter the stakes.

Detective Jack O?Reilly isn?t ready to return to his homicide duties, after losing his wife to a drunk driver. He?s on the downside of his career, and bent on revenge, when he?s assigned as Brinna?s partner. While on patrol, Jack struggles between his quest for personal justice and his responsibility to those around him, especially his partner.

Skeptical of Jack?s motives, Brinna isn?t sure she can rely on her new partner, whose reckless abandon endangers the safety of those around him. But when a man surfaces with an MO similar to the criminal who abducted Brinna twenty years earlier, Brinna and Jack must cast aside previous judgments and combine efforts to catch the kidnapper, and finally allow Brinna the peace stolen from her as a child.
- Publisher


Customer Reviews For "Critical Pursuit (#01 in Brinna Caruso Collection Series)"
Write Your Own Review
Restoration
By becinchina,

Jul 30 2018
Dealt with lots of pressing issues. While giving characters room to face their doubts and pain
---
Awesome book!
By Audrey,

Nov 06 2013
I thoroughly enjoyed this book. It addressed the usual questions like why do God allow bad things to happen? Is there even a God? What about heaven? What I enjoyed was walking with the characters through their struggles of making sense of it all. The author didn't just offer platitudes but allows honest anger and wrestling with the issues. Halve way through the book I thought to myself this author must have some insight into police work and then I looked at the front cover the light-bulb went on. Great book!!
---
Well Written Police Thriller
By Iola,

Sep 20 2013
The first couple of chapters are a bit slow, but the pace soon picks up when the reader realises that Brinna's kidnapper is back in Long Beach, and is searching for his next 'Special Girl' to celebrate the twentieth anniversary of Brinna's rescue. We can see what is going to happen, but Brinna, Jack and the rest of the police force are oblivious, as records show the culprit died ten years ago. They think the messages left for Brinna at crime scenes are from a copycat killer, or perhaps a local paedophile who knows about Brinna's Wall of Slime... This was a really good technique, as it really ramped up the tension and made the second half of the book a real page-turner. 

This is Christian fiction, and while it's more gritty than most, it still manages to convey the damage done to Brinna all those years ago without getting into detail, and I appreciated that. The characters were strong, the writing was excellent, and the Christian aspects of the story were handled well. Recommended for those who enjoy a good thriller. I'll be looking forward to seeing what's next in store for Brinna and Jack.

This title was first published by OakTara as The Kevlar Heart in 2007. Thanks to Tyndale House and NetGalley for providing a free ebook for review. 
{{review.title}}
By {{review.author.name}},

{{review.reviewCreatedDate | date:'MMM dd yyyy'}}

{{reviewdescription}}
{{review.text}}
---
Other Titles In The "Brinna Caruso Collection" Series