Cross-Cultural Partnerships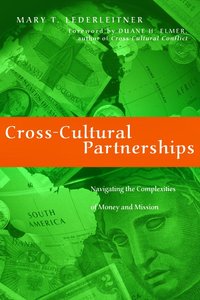 One of the biggest challenges in global mission work is money-not merely the need for it, but working through cross-cultural differences surrounding how funds are used and accounted for. Cross-cultural missteps regarding financial issues can derail partnerships between supporting churches and agencies and national leaders on the ground. North Americans don't understand how cultural expectations of patronage shape how financial support is perceived and understood, and Western money often comes with subtle strings attached. So local mission work is hampered by perceived paternalism, and donors are frustrated with lack of results or accountability. How do we build financial partnerships for effective mission without fostering neo-colonialism? Cross-cultural specialist Mary Lederleitner brings missiological and financial expertise to explain how global mission efforts can be funded with integrity, mutuality and transparency. Bringing together social science research, biblical principles and on-the-ground examples, she presents best practices for handling funding and finance. Cross-cultural partnerships can foster dignity, build capacity and work toward long-term sustainability. Lederleitner also addresses particular problems like misallocation of funds, embezzlement and fraud. This book is an essential guide for all who partner in global mission, whether pastors of supporting churches or missionaries and funding agencies.

- Publisher
You May Also Be Interested In
About "Cross-Cultural Partnerships"
One of the biggest challenges in global mission work is money-not merely the need for it, but working through cross-cultural differences surrounding how funds are used and accounted for. Cross-cultural missteps regarding financial issues can derail partnerships between supporting churches and agencies and national leaders on the ground. North Americans don't understand how cultural expectations of patronage shape how financial support is perceived and understood, and Western money often comes with subtle strings attached. So local mission work is hampered by perceived paternalism, and donors are frustrated with lack of results or accountability. How do we build financial partnerships for effective mission without fostering neo-colonialism? Cross-cultural specialist Mary Lederleitner brings missiological and financial expertise to explain how global mission efforts can be funded with integrity, mutuality and transparency. Bringing together social science research, biblical principles and on-the-ground examples, she presents best practices for handling funding and finance. Cross-cultural partnerships can foster dignity, build capacity and work toward long-term sustainability. Lederleitner also addresses particular problems like misallocation of funds, embezzlement and fraud. This book is an essential guide for all who partner in global mission, whether pastors of supporting churches or missionaries and funding agencies.
- Publisher


Meet the Authors
Mary T Lederleitner
Mary T. Lederleitner is a researcher, author, trainer and consultant for Wycliffe. Currently her focus is best practices related to cross-cultural ministry partnerships. She also develops resources to train missionaries and lay people for more effective cross-cultural ministry. Prior to serving in this role she was the Asia area finance manager and head of international audit. She has traveled extensively overseas and has been called upon to also assist a wide range of Christian non-profit ministries and churches.


Before joining Wycliffe she served as a singles ministry coordinator at College Hill Presbyterian Church and Christ Church of Oak Brook, equipping lay people for ministry within the church and the surrounding community. Before entering ministry she became a certified public accountant and she served as a tax examiner for the Internal Revenue Service and the city of Cincinnati. She is pursuing a Ph.D. at Trinity Evangelical Divinity School in Educational Studies and she holds a Masters Degree in Intercultural Studies from Wheaton College. She is on the Advisory Board for EMIS, the organization that publishes EMQ (Evangelical Missions Quarterly) and Lausanne Pulse. She also serves on the board of Faith and Learning and the steering committee for COSIM (The Coalition on the Support of Indigenous Ministries) and MLN (Mission Leadership Network).
Duane Elmer
Duane H. Elmer (Ph.D., Michigan State U.) is director of theDuane H. Elmer (Ph.D., Michigan State U.) is director of the Ph.D. program in educational studies and is the G. W. Aldee Ph.D. program in educational studies and is the G. W. Aldeen Chair of International Studies at Trinity Evangelical Divin Chair of International Studies at Trinity Evangelical Divinity School in Deerfield, Illinois. In addition to travelingnity School in Deerfield, Illinois. In addition to traveling and teaching in over 75 countries, he has provided cross-cu and teaching in over 75 countries, he has provided cross-cuC