Ct: God's Love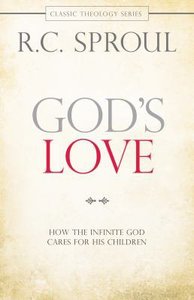 Dr. R. C. Sproul is one of the most renowned theologians of our time. For over 40 years Dr. Sproul has encouraged, educated, and enlightened millions through his books, teaching, and ministry." "God doesn't just love us. He "is" love. "God's Love "explores the unrelenting love of God, which found its ultimate expression through His Son. This release also explains difficult themes such as the different aspects of God's nature, how His love coexists with His holiness, and what the Bible means when it mentions God's hatred. This is a compelling read for all who long to love as God loves.


- Publisher
You May Also Be Interested In
This item is in the following kit
About "Ct: God's Love"
Dr. R. C. Sproul is one of the most renowned theologians of our time. For over 40 years Dr. Sproul has encouraged, educated, and enlightened millions through his books, teaching, and ministry." "God doesn't just love us. He "is" love. "God's Love "explores the unrelenting love of God, which found its ultimate expression through His Son. This release also explains difficult themes such as the different aspects of God's nature, how His love coexists with His holiness, and what the Bible means when it mentions God's hatred. This is a compelling read for all who long to love as God loves.

- Publisher


Meet the Author
R C Sproul
R. C. Sproul, theologian, pastor and teacher, is founder of Ligonier Ministries, an international teaching ministry based in Orlando, Florida. He holds doctorate degrees from Free University of Amsterdam and Whitefield Theological Seminary, and is author of more than sixty books, general editor of The Reformation Study Bible and executive editor of Tabletalk magazine. Sproul is senior minister of preaching at Saint Andrew's Chapel and can be heard daily on the radio broadcast Renewing Your Mind.