Curse of the Arctic Star (#01 in Nancy Drew Diaries Series)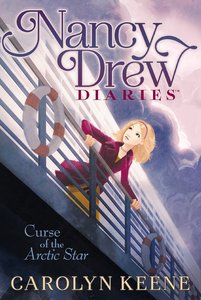 Nancy and her friends must navigate a cruise ship crisis in the first book of the Nancy Drew Diaries, a fresh approach to a classic series.

Nancy, Bess, and George are cruising dangerous waters on a tour of Alaska. Becca Wright, an old friend of Nancy's, is the Assistant Cruise Director of the Arctic Star, a posh new ship. But Becca needs Nancy's help when strange things keep happening aboard the opulent ocean liner: The swimming pool becomes a floating grave; a famous passenger is threatened; and even the seemingly innocent mini-golf course becomes a perilous playground. With the majestic and mysterious Alaskan scenery as a backdrop, Nancy and company have to find out who's trying to sabotage the maiden voyage and why.

- Publisher
Also Available In
You May Also Be Interested In
About "Curse of the Arctic Star (#01 in Nancy Drew Diaries Series)"
Nancy and her friends must navigate a cruise ship crisis in the first book of the Nancy Drew Diaries, a fresh approach to a classic series.

Nancy, Bess, and George are cruising dangerous waters on a tour of Alaska. Becca Wright, an old friend of Nancy's, is the Assistant Cruise Director of the Arctic Star, a posh new ship. But Becca needs Nancy's help when strange things keep happening aboard the opulent ocean liner: The swimming pool becomes a floating grave; a famous passenger is threatened; and even the seemingly innocent mini-golf course becomes a perilous playground. With the majestic and mysterious Alaskan scenery as a backdrop, Nancy and company have to find out who's trying to sabotage the maiden voyage and why.
- Publisher


Meet the Author
Carolyn Keene
Carolyn Keene was the pseudonym used by Mildred Wirt Benson when she wrote the popular Nancy Drew Mystery series. After her graduation from the University of Iowa, Benson began writing for Edward Stratemeyer. Consequently, Benson has been credited as the author of most of the first Nancy Drew books, but Harriet Stratemeyer Adams wrote the later books and edited the ones written by Benson.
Other Titles In The "Nancy Drew Diaries Series" Series View All