Daily Help Devotional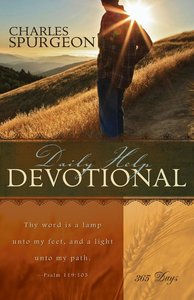 Guidance & Comfort. The Daily Help Devotional directs you through each day of the year, touching and inspiring your faith and anchoring your soul to the Lord. These messages, along with key verses of Scripture, will bring you into fellowship with God in a remarkable way. These teachings will guide you in experiencing God's direction, relieving tensions of the day, finding the peace that passes understanding, developing a stronger faith, and knowing the mind of the Lord. Spurgeon's writings directly reflect God's words and principles, while they convey his characteristic warmth and compassion. In only a few moments each day, these meditations will help those who are seeking intimacy with our Lord and want to discover the joy of dwelling daily with our Savior.

- Publisher
You May Also Be Interested In
About "Daily Help Devotional"
Guidance & Comfort. The Daily Help Devotional directs you through each day of the year, touching and inspiring your faith and anchoring your soul to the Lord. These messages, along with key verses of Scripture, will bring you into fellowship with God in a remarkable way. These teachings will guide you in experiencing God's direction, relieving tensions of the day, finding the peace that passes understanding, developing a stronger faith, and knowing the mind of the Lord. Spurgeon's writings directly reflect God's words and principles, while they convey his characteristic warmth and compassion. In only a few moments each day, these meditations will help those who are seeking intimacy with our Lord and want to discover the joy of dwelling daily with our Savior.
- Publisher


Meet the Author
Charles H Spurgeon
Charles Haddon Spurgeon, (1834 - 1892) served for thirty years as preacher and pastor of London's six-thousand-seat Metropolitan Tabernacle. Converted in 1850 at the age of fifteen, he began to help the poor and to hand out tracts; he was known as "The Boy Preacher." He preached his first sermon at the age of sixteen. At age eighteen, he became the pastor of Waterbeach Baptist Chapel, preaching in a barn. In 1856, Spurgeon married Susannah Thompson; they had twin sons, both of whom later entered the ministry. Spurgeon's compelling sermons and lively preaching style drew multitudes of people, and many came to Christ. Soon, the crowds had grown so large that they blocked the narrow streets near the church. Services eventually had to be held in rented halls, and Spurgeon often preached to congregations of more than ten thousand. The Metropolitan Tabernacle was built in 1861 to accommodate the large numbers of people. The prime minister of England, members of the royal family, and Florence Nightingale, among others, went to hear him preach. Spurgeon preached to an estimated ten million people throughout his life. Not surprisingly, he is called the "Prince of Preachers". In addition to his powerful preaching, Spurgeon founded and supported charitable outreaches, including educational institutions. He also founded the famous Stockwell Orphanage. His writings, including thousands of sermons, are still popular with pastors and devotional readers who, like him, treasure the gospel of God's grace.