Dancing For the Devil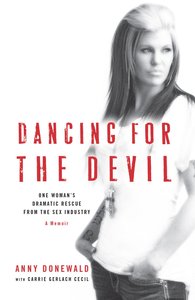 Anny Donewald had a seemingly charmed childhood as the daughter of a top basketball coach. Then, when she was thirteen, one of her father's players began to abuse her, setting her on a path of self-destruction which led ultimately into the explosive world of the sex industry. After Anny competed in an amateur night at a strip club, she found herself sucked into the subculture of drugs, money, and prostitution, dancing in Chicago and Las Vegas's hottest sex venues. But the fantasy of fistfuls of hundred-dollar bills quickly turned into the reality of bloodstains on bathroom floors, during nights with clients in luxurious hotels. At an emotional breaking point, pondering the termination of her unborn son, Anny reached the gates of her personal hell. The atheist did the unthinkable, and cried out to God. This captivating memoir reveals how women from all walks of life can find themselves trapped in the sex trade and illustrates that God loves them no matter what. Dancing for the Devil is a heart-breaking and fascinating story of darkness, grace, and ultimately, the healing power of love. In 2009 Anny launched Eve's Angels, a Christian not-for-profit organization that offers hope, love, and a way out for women trapped and trafficked into places where sex is sold.

- Publisher
You May Also Be Interested In
About "Dancing For the Devil"
Anny Donewald had a seemingly charmed childhood as the daughter of a top basketball coach. Then, when she was thirteen, one of her father's players began to abuse her, setting her on a path of self-destruction which led ultimately into the explosive world of the sex industry. After Anny competed in an amateur night at a strip club, she found herself sucked into the subculture of drugs, money, and prostitution, dancing in Chicago and Las Vegas's hottest sex venues. But the fantasy of fistfuls of hundred-dollar bills quickly turned into the reality of bloodstains on bathroom floors, during nights with clients in luxurious hotels. At an emotional breaking point, pondering the termination of her unborn son, Anny reached the gates of her personal hell. The atheist did the unthinkable, and cried out to God. This captivating memoir reveals how women from all walks of life can find themselves trapped in the sex trade and illustrates that God loves them no matter what. Dancing for the Devil is a heart-breaking and fascinating story of darkness, grace, and ultimately, the healing power of love. In 2009 Anny launched Eve's Angels, a Christian not-for-profit organization that offers hope, love, and a way out for women trapped and trafficked into places where sex is sold.
- Publisher


Meet the Author
Anny Donewald
Anny Donewald is the founder of Eve's Angels, a Christian not-for-profit organization that ministers the word of Jesus Christ to women in the sex industry. Anny is a sex industry survivor who reveals that no one is immune to sin or salvation. The Western Michigan University alumnus has a B.S. in Family Studies and resides in the Midwest with her two children.