Dancing on Glass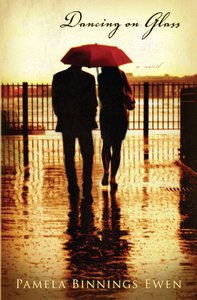 In the steamy city of New Orleans in 1974, Amalise Catoir sees Phillip Sharp as a charming, magnetic artist, unlike any man she has known. A young lawyer herself, raised in a small town and on the brink of a career with a large firm, she is strong and successful, yet sometimes too trusting and whimsical. Ama's rash decision to marry Phillip proves to be a mistake as he becomes overly possessive, drawing his wife away from family, friends, and her faith. His insidious, dangerous behavior becomes her dark, inescapable secret.

In this lawyer's unraveling world, can grace survive Ama's fatal choice? What would you do when prayers seem to go unanswered, faith has slipped away, evil stalks, and you feel yourself forever dancing on shattered glass?

Endorsements:

"With magnificent sense of place and impeccable timing, Pam Ewen crafts a chilling tale of manipulation and evil that's authentic and believable. Encourage your customers to write their names in this one ... they'll want to pass it around."

CBA Retailers + Resources

"A powerful, beautifully written story that left me breathless."

Ginny Yttrup, author of Words

"Dancing on Glass provides a unique perspective on predatory relationships and how bright accomplished women become entrapped in dangerous situations ... Powerful ... Gripping and thought provoking!"

Leanne Truehart, M.D., psychiatry

"If you want a book that alerts you to a very real danger of our present generation, a story that stirs you to your depths, and yes, maybe makes you a little uncomfortable, then Dancing on Glass is the next book you want to pick up."

The Suspense Zone

"Ewen's suspense-filled tale displays excellent character development as well as insight into the workings of a sadistic mind. New Orleans circa 1974 comes alive in her capable hands."

Library Journal

"A deftly written, haunting novel ... if you enjoy romantic thrillers, storylines that tackle difficult topics like abuse, and don't insist on fairytale endings, you'll enjoy Dancing on Glass."

Home with Purpose

"The danger and suspense feels real and exciting. Readers may relate to the strain between the main character and her family. The author uses imagery skillfully, which makes Dancing on Glass a compelling, page-turning read."

RT Book Reviews

"Edgy, scary, riveting; Dancing on Glass by powerful Christian author Pamela Binnings Ewen compels the reader to keep turning the pages, hoping for a way out and answers to prayers."

SingleTitles.com
- Publisher
You May Also Be Interested In
About "Dancing on Glass"
In the steamy city of New Orleans in 1974, Amalise Catoir sees Phillip Sharp as a charming, magnetic artist, unlike any man she has known. A young lawyer herself, raised in a small town and on the brink of a career with a large firm, she is strong and successful, yet sometimes too trusting and whimsical. Ama's rash decision to marry Phillip proves to be a mistake as he becomes overly possessive, drawing his wife away from family, friends, and her faith. His insidious, dangerous behavior becomes her dark, inescapable secret.

In this lawyer's unraveling world, can grace survive Ama's fatal choice? What would you do when prayers seem to go unanswered, faith has slipped away, evil stalks, and you feel yourself forever dancing on shattered glass?

Endorsements:

"With magnificent sense of place and impeccable timing, Pam Ewen crafts a chilling tale of manipulation and evil that's authentic and believable. Encourage your customers to write their names in this one ... they'll want to pass it around."

CBA Retailers + Resources

"A powerful, beautifully written story that left me breathless."

Ginny Yttrup, author of Words

"Dancing on Glass provides a unique perspective on predatory relationships and how bright accomplished women become entrapped in dangerous situations ... Powerful ... Gripping and thought provoking!"

Leanne Truehart, M.D., psychiatry

"If you want a book that alerts you to a very real danger of our present generation, a story that stirs you to your depths, and yes, maybe makes you a little uncomfortable, then Dancing on Glass is the next book you want to pick up."

The Suspense Zone

"Ewen's suspense-filled tale displays excellent character development as well as insight into the workings of a sadistic mind. New Orleans circa 1974 comes alive in her capable hands."

Library Journal

"A deftly written, haunting novel ... if you enjoy romantic thrillers, storylines that tackle difficult topics like abuse, and don't insist on fairytale endings, you'll enjoy Dancing on Glass."

Home with Purpose

"The danger and suspense feels real and exciting. Readers may relate to the strain between the main character and her family. The author uses imagery skillfully, which makes Dancing on Glass a compelling, page-turning read."

RT Book Reviews

"Edgy, scary, riveting; Dancing on Glass by powerful Christian author Pamela Binnings Ewen compels the reader to keep turning the pages, hoping for a way out and answers to prayers."

SingleTitles.com
- Publisher
Meet the Author
Pamela Binnings Ewen
Ewen is a partner in the prestigious international law firm Baker and Botts, L.L.P., where she specializies in corporate finance. She also serves on the Board of Directors for Junior Achievement of Southeast Texas.