Dancing With Max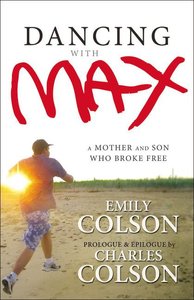 Meet a remarkable young man. Max doesn't communicate like we do. But he communicates better than we do about the most important things. Max doesn't think like we do. But his actions reflect deep spiritual truths. With candor and wit, Emily Colson shares about her personal battles and heartbreak when, as a suddenly single mother, she discovers her only child has autism. Emily illuminates the page with imagery---making you laugh, making you cry, inspiring you to face your own challenges. Chuck Colson, in his most personal writing since Born Again, speaks as a father and grandfather. It is a tender side Max brings out of his grandfather, a side some haven't seen. As Emily recalls her experiences, we discover that Max's disability does not so much define who he is, but reveals who we are. Dancing with Max is not a fairy tale with a magical ending. It's a real life story of grace and second chances and fresh starts in spite of life's hardest problems. And Max? Max will make you fall in love with life all over again, leaving you dancing with joy.

- Publisher
You May Also Be Interested In
About "Dancing With Max"
Meet a remarkable young man. Max doesn't communicate like we do. But he communicates better than we do about the most important things. Max doesn't think like we do. But his actions reflect deep spiritual truths. With candor and wit, Emily Colson shares about her personal battles and heartbreak when, as a suddenly single mother, she discovers her only child has autism. Emily illuminates the page with imagery---making you laugh, making you cry, inspiring you to face your own challenges. Chuck Colson, in his most personal writing since Born Again, speaks as a father and grandfather. It is a tender side Max brings out of his grandfather, a side some haven't seen. As Emily recalls her experiences, we discover that Max's disability does not so much define who he is, but reveals who we are. Dancing with Max is not a fairy tale with a magical ending. It's a real life story of grace and second chances and fresh starts in spite of life's hardest problems. And Max? Max will make you fall in love with life all over again, leaving you dancing with joy.
- Publisher


Meet the Authors
Emily Colson
Emily Colson is the daughter of Chuck Colson. She is an artist and writer. After many years as an art and creative director in the field of advertising and design, she now pours her creative gifts into helping her son, Max, who is diagnosed with autism. She has even pioneered an innovative communication system to assist her son. Emily has been a single mother for most of Max's 19 years, with hard-fought lessons of life, love, and laughter. Emily and Max live on the coast of New England, where they can often be found dancing. You can visit her at www.emilycolson.com.
Charles Colson
The well-known story of Charles Colson's transformation from President Richard Nixon's "hatchet man" who was "incapable of humanitarian thoughts" to founder of the Prison Fellowship Ministries and internationally recognized Christian author and speaker is a triumph of God finding a man and a man finding God. His 1973 conversion to Christianity was followed by a guilty plea to obstruction of justice and a seven-month prison sentence in 1974. He founded Prison Fellowship Ministries in 1976, fulfilling a promise made to fellow inmates that he would "never forget those behind bars."
Charles Colson's first book, Born Again, was released in 1976 and instantly became an international bestseller. He has authored many books that have collectively sold more than five million copies worldwide, including Justice That Restores; How Now Shall We Live?; Burden of Truth, Answers to Your Kids; Gideon's Torch; Why America Doesn't Work; Kingdoms in Conflict; and Loving God.
He is also a columnist, international speaker, and commentator on a national radio broadcast. He received the prestigious Templeton Prize for Progress in Religion in 1993 and donated the $1 million prize to the Prison Fellowship's Endowment Fund.
Media