Daniel (Niv Application Commentary Series)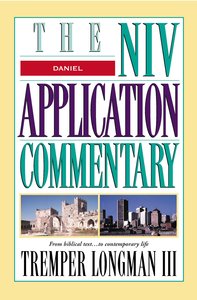 This is the first Old Testament volume in Zondervan's acclaimed commentary series. This book will help readers of one of the Bible's most fascinating and personal prophetic books make the leap from historical context to practical applications for modern living. Longman sheds light on Daniel's spellbinding, often apocalyptic imagery, and reveals principles that are as relevant today as they were in the days of the Babylonian captivity. 400 pages
You May Also Be Interested In
About "Daniel (Niv Application Commentary Series)"
This is the first Old Testament volume in Zondervan's acclaimed commentary series. This book will help readers of one of the Bible's most fascinating and personal prophetic books make the leap from historical context to practical applications for modern living. Longman sheds light on Daniel's spellbinding, often apocalyptic imagery, and reveals principles that are as relevant today as they were in the days of the Babylonian captivity. 400 pages
- Koorong


Most Bible commentaries take us on a one-way trip from the twentieth century to the first century. But they leave us there, assuming that we can somehow make the return journey on our own. In other words, they focus on the original meaning of the passage but don't discuss its contemporary application. The information they offer is valuable--but the job is only half done! The NIV Application Commentary Series helps us with both halves of the interpretive task. This new and unique series shows readers how to bring an ancient message into modern context. It explains not only what the Bible means but also how it can speak powerfully today.
- Publisher
Meet the Author
Tremper Longman (Iii)
Tremper Longman III (Ph.D., Yale University) is Robert H. Gundry Professor of Biblical Studies at Westmont College in Santa Barbara, California. He is also Visiting Professor of Old Testament at Mars Hill Graduate School, Westminster Theological Seminary and adjunct at Fuller Theological Seminary.
He is the author of commentaries on The Book of Job and Proverbs (Baker Commentary on the Old Testament Wisdom and Psalms); Exodus (The Two Horizons Old Testament Commentary) and Jeremiah, Lamentations (New International Biblical Commentary), Daniel (New Internatuional Version Application Commentary), Ecclesiastes and Song of Songs (New International Commentary on the Old Testament/ Cornerstone Commentary).
Longman is the author of How to Read Genesis; How to Read the Psalms; How to Read Proverbs; How to Read Exodus and Literary Approaches to Biblical Interpretation, and co-editor of A Complete Literary Guide to the Bible and co-author with Dan Allender of Bold Love, Cry of the Soul, Intimate Allies; The Intimate Mystery and The Intimate Marriage Bible Studies.
Koorong -Editorial Review.
Table Of Contents
most Bible Commentaries Take Us On A One-way Trip From The Twentieth Century To The First Century. But They Leave Us There, Assuming That We Can Somehow Make The Return Journey On Our Own. In Other Words, They Focus On The Original Meaning Of The Passage But Don't Discuss Its Contemporary Application. The Information They Offer Is Valuable--but The Job Is Only Half Done! The Niv Application Commentary Series Helps Us With Both Halves Of The Interpretive Task. This New And Unique Series Shows Readers How To Bring An Ancient Message Into Modern Context. It Explains Not Only What The Bible Means But Also How It Can Speak Powerfully Today.

1. General Editors Preface

2. Authors Preface And Acknowledgments

3. Abbreviations

4. Introduction

5. Outline

6. Bibliography

7. Text And Commentary On Daniel

8. Scripture Index

9. Subject Index

320 Pages
Other Titles In The "Niv Application Commentary" Series View All