Daughter of the Nile (Ebook Shorts) (#03 in The Loves Of King Solomon Series)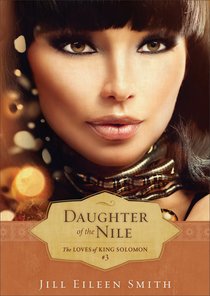 Her father, the Great Pharaoh of Egypt, promised the renowned king of Israel anything he desired. She never could have imagined his desire would include her.

Princess Siti is happy to let her older sister marry the crown prince out of duty to Egypt. She longs to marry for love--to a great man like those in the romantic poems she adores. But her mother wants her to wed her temperamental cousin, and only her father can overturn the arrangement.

When news comes of Egypt's triumph over a distant Canaanite city, rumors spread that Israel's great King Solomon himself may travel to Egypt in order to make an alliance. Siti yearns to meet this fabled king, who is as handsome as he is wise, but she never dreamed she might be offered to him as a bride.

Can she truly leave her beloved Egypt--and love the man who is tearing her away from all she's ever known?

- Publisher
You May Also Be Interested In
About "Daughter of the Nile (Ebook Shorts) (#03 in The Loves Of King Solomon Series)"
Her father, the Great Pharaoh of Egypt, promised the renowned king of Israel anything he desired. She never could have imagined his desire would include her.

Princess Siti is happy to let her older sister marry the crown prince out of duty to Egypt. She longs to marry for love--to a great man like those in the romantic poems she adores. But her mother wants her to wed her temperamental cousin, and only her father can overturn the arrangement.

When news comes of Egypt's triumph over a distant Canaanite city, rumors spread that Israel's great King Solomon himself may travel to Egypt in order to make an alliance. Siti yearns to meet this fabled king, who is as handsome as he is wise, but she never dreamed she might be offered to him as a bride.

Can she truly leave her beloved Egypt--and love the man who is tearing her away from all she's ever known?
- Publisher


Meet the Author
Jill Eileen Smith
Jill Eileen Smith has more than twenty years of writing experience, and her writing has garnered acclaim in several contests. Her research into the lives of David's wives has taken her from the Bible to Israel, and she particularly enjoys learning how women lived in Old Testament times. Jill is the author of the bestselling Michal, and a second volume Abigail, and lives with her family in southeast Michigan.
Other Titles In The "The Loves Of King Solomon" Series