Day of War (#01 in Lion Of The War Series)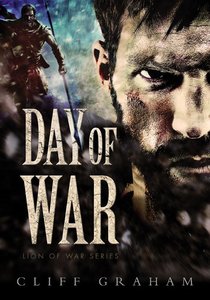 In ancient Israel, at the crossroads of the great trading routes, a man named Benaiah is searching for a fresh start in life. He has joined a band of soldiers led by a warlord named David, seeking to bury the past that refuses to leave him. Their ragged army is disgruntled and full of reckless men. Some are loyal to David, but others are only with him for the promise of captured wealth.

While the ruthless and increasingly mad King Saul marches hopelessly against the powerful Philistines, loyal son Jonathan in tow, the land of the Hebrew tribes has never been more despondent - and more in need of rescue.

Over the course of ten days, from snowy mountain passes to sword-wracked battlefields, Benaiah and his fellow mercenaries must call upon every skill they have to survive and establish the throne for David - if they don't kill each other first.



- Publisher
You May Also Be Interested In
About "Day of War (#01 in Lion Of The War Series)"
In ancient Israel, at the crossroads of the great trading routes, a man named Benaiah is searching for a fresh start in life. He has joined a band of soldiers led by a warlord named David, seeking to bury the past that refuses to leave him. Their ragged army is disgruntled and full of reckless men. Some are loyal to David, but others are only with him for the promise of captured wealth.

While the ruthless and increasingly mad King Saul marches hopelessly against the powerful Philistines, loyal son Jonathan in tow, the land of the Hebrew tribes has never been more despondent - and more in need of rescue.

Over the course of ten days, from snowy mountain passes to sword-wracked battlefields, Benaiah and his fellow mercenaries must call upon every skill they have to survive and establish the throne for David - if they don't kill each other first.


- Publisher


Meet the Author
Cliff Graham
Cliff Graham was born in Dallas, Texas, and raised in Rapid City, South Dakota. He graduated from Black Hills State University with degrees in political science and military science and did his graduate studies at Liberty Theological Seminary. His first novel, Day of War, about King David's mighty men, earned him a film option for the entire book series from director David L. Cunningham (Path to 9/11) and producer Grant Curtis (Spider-Man films). A major motion picture franchise is in production. Graham is an officer in the United States Army National Guard and a veteran of Operation Enduring Freedom, who is currently serving in the Chaplain Corps and living in the mountains of Utah with his wife, Cassandra, and their children.
Media
Customer Reviews For "Day of War (#01 in Lion Of The War Series)"
Write Your Own Review
Exciting and gripping reading
By Veronica,

Jan 20 2016
This book gets you in at the start and just wont let you go. The author is amazing, his words make you live the story, The best Biblical Novel I have ever read. I couldn't put it down till I finished it. I then started on the second one and hopefully the 3rd will be out when I finish that one.
A truly must read
---
Couldn't Put It Down
By Chris,

Dec 09 2014
Loved this book. Didn't want to put it down. Really looking forward to the third book.
---
Thrilling Story
By Adam Collings,

Aug 26 2012
Day of War started with a bang. The story opens with Benaiah, one of David's soldiers, getting into a fight with a lion. These opening chapters were especially thrilling. We get a gritty and immersive look into ancient Israel.

The pace seems to drag just slightly during the first half of the second act, as the author introduces a larger cast of characters, but then from the the midpoint onward things heat up toward an exciting conclusion.

Cliff Graham did a great job of transporting us into the past and showing us what life was like in David's rag-tag band of warriors. This feels like a good origin story about a man who we know is on his way to a great destiny.

In amongst all of the action and excitement, there is a meaningful character arc and growth. 

I'm looking forward to reading more in this series.
---
Excellent reading
By Wendy,

Aug 31 2011
I thoroughly enjoyed this book.  Cliff Graham has used his research, travels and imagination brilliantly to construct an authentic read.  The battle scenes- weapons, strategy etc. are accurate and written with a gritty realism while refraining from glorifying the brutality of the times. 
The descriptions drew me into the book and made me feel like I was part of the action- running alongside the main character.
Overall I found this an absorbing read from a fantastic new author.  Cannot wait for the rest of the series!
{{review.title}}
By {{review.author.name}},

{{review.reviewCreatedDate | date:'MMM dd yyyy'}}

{{reviewdescription}}
{{review.text}}
---
Other Titles In The "Lion Of The War" Series