Deceived (#03 in Private Justice Series)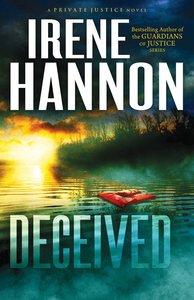 For three years, Kate Marshall has been grieving the loss of her husband and their four-year-old son in a boating accident. But when she spots a familiar-looking child on an escalator in the mall, she is convinced it is the son she thought was dead. With police skeptical of her story, she turns to private investigator Connor Sullivan. The former Secret Service agent is dubious but agrees to investigate. Digging into the case he discovers that the incident may have been no accident at all. But if Kate's son is alive, someone is intent on keeping him hidden--and may be willing to go to lethal lengths to protect a sinister secret.

As Irene Hannon's many fans have come to expect, Deceived is filled with complex characters, unexpected twists, and a riveting plot line that accelerates to an explosive finish.

- Publisher
You May Also Be Interested In
About "Deceived (#03 in Private Justice Series)"
For three years, Kate Marshall has been grieving the loss of her husband and their four-year-old son in a boating accident. But when she spots a familiar-looking child on an escalator in the mall, she is convinced it is the son she thought was dead. With police skeptical of her story, she turns to private investigator Connor Sullivan. The former Secret Service agent is dubious but agrees to investigate. Digging into the case he discovers that the incident may have been no accident at all. But if Kate's son is alive, someone is intent on keeping him hidden--and may be willing to go to lethal lengths to protect a sinister secret.

As Irene Hannon's many fans have come to expect, Deceived is filled with complex characters, unexpected twists, and a riveting plot line that accelerates to an explosive finish.
- Publisher


Meet the Author
Irene Hannon
Irene Hannon is the bestselling and award-winning author of more than fifty novels, including Buried Secrets and Thin Ice, as well as the Heroes of Quantico, Guardians of Justice, and Private Justice series. In addition to many other honors, she is a seven-time finalist for and three-time winner of the prestigious RITA Award from Romance Writers of America. She is also a member of RWA's elite Hall of Fame. Learn more at www.irenehannon.
Customer Reviews For "Deceived (#03 in Private Justice Series)"
Write Your Own Review
Riveting read
By May,

Sep 30 2016
Brilliant suspense which quickly draws you in and takes your emotions along for the ride.  Lots of twists and surprises. Couldn't put it down, and it's just as good the second time around. 
---
A Heartwarming and Suspense Filled Read
By Felicity,

Oct 07 2015
This book is another fast paced suspense story from Irene Hannon.

The characters are well thought out with a good play off each other.  It has both sad and sweet moments mixed in with the suspense.  It's a page turner and fairly gripping, so don't read it late at night because you'll struggle to put it down.

Opening the story we are introduce to a woman who lost her husband and son both in a tragic accident.  Something weird happens that raises her suspicions about that accident, but it also makes everyone around her think she's lost her marbles due to the emotional strain of losing her husband and son.  

The interplay is realistic for someone under the stress of not being believed in a distressing situation.  I enjoyed this story as it combines and contrasts its elements well, pain and healing, sorrow and joy, loss but sacrificial love, fear and courage, discouragement and hope, and almost scoffing disbelief but quiet steadfast faith.  If you enjoy romantic suspense you should read this, but keep a box of tissues close by if you are inclined to cry.
---
Timely
By Bri,

May 09 2015
I really enjoy reading Irene's books, I initially picked it up because it was recommended by Dee Henderson and haven't been disappointed. 
I loved the journey that you are taken on as you follow Kate's story. You are immediately feeling empathetic with her character due to the exceptional writing style. Even though there is an underlying romance story in the background, it doesn't overpower the crime and suspense side of the storyline which I enjoyed. 
It's a worthwhile read and a good way to spend time off
---
An easy read
By Kylea,

Dec 09 2014
Even though you could predict the ending by the end of the 1st chapter, especially if you have read book 1 and   2 in this series,  that didn't stop the enjoyment of the story developing . An easy  enjoyable book. 
---
Excellent Romantic Suspense
By Iola,

Nov 20 2014
I've found the last couple of Irene Hannon romantic suspense novels I've read a bit flat. I'm relieved to report that Deceived is back to Hannon at her best. Okay, the first meet between Kate and Connor was probably more corny than cute, but the suspense plot was excellent (and the romance worked nicely). 

It's an ambitious plot. Was the boy on the elevator Kate's son? If so, is the man with him involved? How exactly does a four-year-old "drowning" victim resurface as a seven-year-old half a country away? Where has he been for the last three years? Who took him? And why? 

At the same time as Kate and Connor are searching for the truth, we see Greg and Todd Sanders, to all outward appearances a loving father and son. This, in my view, is the real strength of Deceived, because Hannon hasn't depicted a clich "villain" but a likeable and well-rounded character that I sympathised with. After all, if Kate is right, Greg and Todd are about to have their worlds ripped apart. Writing likeable antagonists is a real skill, especially when it comes to their motives, and I commend Hannon on the way she dealt with Greg's backstory. When the full story came out, it all seemed horribly plausible. Recommended.

Thanks to Revell and Netgalley for providing a free ebook for review.
{{review.title}}
By {{review.author.name}},

{{review.reviewCreatedDate | date:'MMM dd yyyy'}}

{{reviewdescription}}
{{review.text}}
---
Other Titles In The "Private Justice Series" Series