Defiance (#03 in Navy Justice Fiction Series)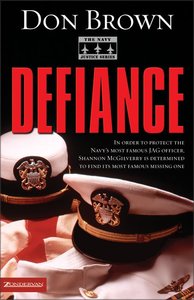 The murder of an international attorney, the posturing of a power-hungry politician, the schemes of a psychotic stalker, and the high-stakes drama of a daring rescue mission: Navy JAG Lieutenant Commander Zack Brewer is in the spotlight and the danger zone.

- Publisher From a murder in Paris to a courtroom in California to a terrorist camp in the Gobi Desert, Don Brown's follow-up to Treason and Hostage plunges into a suspense-filled journey of danger, duty, and hope. In Defiance, Shannon McGilverry is a crack NCIS agent assigned to protect Navy JAG Officer Zack Brewer. Zack is being hunted by terrorists, stalked by a psychopath, and is working his way through a perilous, politically-charged trial. When another Navy JAG officer is murdered, it's clear that Zack is in harm's way. As his bodyguard, Shannon must do more than protect Zack. She also must set aside her growing feelings for the brilliant attorney and investigate rumors that the love of his life, Diane Colcerninan, may still be alive. Zack finds himself in need of his faith more than ever as Navy Seals launch a daring rescue attempt that has the potential to trigger World War III.

- Publisher
You May Also Be Interested In
About "Defiance (#03 in Navy Justice Fiction Series)"
The murder of an international attorney, the posturing of a power-hungry politician, the schemes of a psychotic stalker, and the high-stakes drama of a daring rescue mission: Navy JAG Lieutenant Commander Zack Brewer is in the spotlight and the danger zone.
- Publisher

From a murder in Paris to a courtroom in California to a terrorist camp in the Gobi Desert, Don Brown's follow-up to Treason and Hostage plunges into a suspense-filled journey of danger, duty, and hope. In Defiance, Shannon McGilverry is a crack NCIS agent assigned to protect Navy JAG Officer Zack Brewer. Zack is being hunted by terrorists, stalked by a psychopath, and is working his way through a perilous, politically-charged trial. When another Navy JAG officer is murdered, it's clear that Zack is in harm's way. As his bodyguard, Shannon must do more than protect Zack. She also must set aside her growing feelings for the brilliant attorney and investigate rumors that the love of his life, Diane Colcerninan, may still be alive. Zack finds himself in need of his faith more than ever as Navy Seals launch a daring rescue attempt that has the potential to trigger World War III.
- Publisher


Meet the Author
Don Brown
Don Brown (JD), a former Navy JAG Officer and the author of Zondervan's riveting Navy Justice Series - Black Sea Affair; Defiance; Hostage and Treason Most recently he has produced THe Malacca Conspiracy and Thunder in the Morning Calm.
He is founder of Brown and Associates, PLLC. Don went on to receive a Juris Doctor degree from Campbell University School of Law. He spent five years in the U.S. Navy as an officer in the Judge Advocate General's (JAG) Corps. During that time, he served with the U.S. Attorney, served in the Pentagon, and was published in the Naval Law Review. He continued his studies at the United States Naval War College in Newport, Rhode Island earning the Navy's nonresident certificate in International Law.
Other Titles In The "Navy Justice Fiction Series" Series View All
$22.99




Order now to secure your copy when our stock arrives. eBook is Available. 0 Available. Expected to ship in 3 weeks from Australia.

Formats

$25.99




Available Now. 1 Available