Defiant Joy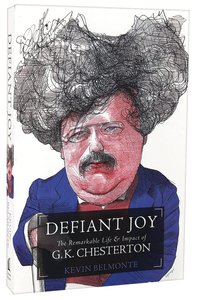 Defiant Joy is a powerful narrative of Chesterton's life through his literary accomplishments.

Amid currents of modernity that sought to displace the Christian faith, Chesterton challenged thought leaders of his day with civility, erudition, and wit, contending that faith is the central piece of our humanity. C. S. Lewis credits The Everlasting Man for his Christian vision, while Heretics and Orthodoxy are still considered pillars of Christian thought.

But Chesterton wasn't just an apologist. He wrote literary criticisms of Dickens and Chaucer still revered as seminal works. He wrote long-form epic poetry, widely-published articles, and lectured on art, politics, and history. Defiant Joy reveals a larger-than-life thinker and cultural giant - showing his utmost relevance for us today, and how a vibrant Christian witness can display the merits, joy, and sanity of a faith many wish to discredit.

- Publisher
You May Also Be Interested In
About "Defiant Joy"
Defiant Joy is a powerful narrative of Chesterton's life through his literary accomplishments.

Amid currents of modernity that sought to displace the Christian faith, Chesterton challenged thought leaders of his day with civility, erudition, and wit, contending that faith is the central piece of our humanity. C. S. Lewis credits The Everlasting Man for his Christian vision, while Heretics and Orthodoxy are still considered pillars of Christian thought.

But Chesterton wasn't just an apologist. He wrote literary criticisms of Dickens and Chaucer still revered as seminal works. He wrote long-form epic poetry, widely-published articles, and lectured on art, politics, and history. Defiant Joy reveals a larger-than-life thinker and cultural giant - showing his utmost relevance for us today, and how a vibrant Christian witness can display the merits, joy, and sanity of a faith many wish to discredit.

- Publisher
- Koorong


You may be aware that G. K. Chesterton authored influential Christian biographies and apologetics. But you may not know the larger-than-life Gilbert Keith Chesterton himself?not yet. Equally versed in poetry, novels, literary criticism, and journalism, he addressed politics, culture, and religion with a towering intellect and a soaring wit.
Chesterton engaged his world through the written word. He carried on lively, public discussions with the social commentators of his day, continually challenging them with civility, humility, erudition, and his ever-sharp sense of humor. Today's reader can find the same treasures, for as Chesterton said, ?What a man can believe depends upon his philosophy, not upon the clock or the century.?
In Kevin Belmonte's fresh new biography, you'll get to know the real G. K. Chesterton and his literary and cultured accomplishments. A giant of his time, Chesterton continues to live large in the imaginations of twenty-first-century readers.
Endorsements:
?Chesterton's explanation of Christianity makes absolute sense of the world. He reminds us that, free of our comforting delusions, reality is a tragic adventure in which we get to participate.? ?DONALD MILLER, author of the New York Times bestsellers A Million Miles in a Thousand Years and Blue Like Jazz
?Bravo to Kevin Belmonte for turning his caring attention to the incomparably hilarious and brilliant genius that is G.K. Chesterton!? ?ERIC METAXAS, New York Times best-selling author of Bonhoeffer: Pastor, Martyr, Prophet, Spy and Amazing Grace: William Wilberforce and the Heroic Campaign to End Slavery
?There's a great new biography about one of the Christian giants of the 20th Century. And I mean that literally. To read Kevin Belmonte's recent book Defiant Joy: The Remarkable Life & Impact of G. K. Chesterton, is to feel a powerful sense of longing . . . because there is such a longing, a great need for advocates like Chesterton in our day. . . . But let's be grateful we still have the works of that great man to study and learn from. . . And we also have for you have Belmonte's vibrant new biography -- a wonderful reminder of the magnificent example Chesterton has set for us.??CHUCK COLSON(http://patriotpost.us/opinion/chuck-colson/2012/01/26/defiant-joy-why-we-still-need-chesterton/)
- Publisher
Meet the Author
Kevin Belmonte
Kevin Belmonte is a visiting author at Gordon College and the lead historical consultant for the major motion picture Amazing Grace. His first biography, William Wilberforce: A Hero for Humanity, received the prestigious John Pollock Award for Christian Biography Winner of the 2003. Belmonte has edited Wilberforce's classic apologetic work A Practical View of Christianity and served as a script consultant for the BBC. Moast recently he has authored Christian Encounters Series: D. L. Moody. He and his wife, Kelly, along with their son, Samuel, reside in New England.
Customer Reviews For "Defiant Joy"
Write Your Own Review
Literary biography
By Wendy,

Mar 10 2011
Before I read Philip Yancey's Soul Survivor: How My Faith Survived the Church I'd never heard of G.K. Chesterton. I love biographies, so I was excited by the opportunity to read more about this man's life
 
He was truly remarkable. A genius who thought and wrote from a different perspective than the ordinary person. A person who is difficult to capture on pages. He was a journalist, an essayist, a poet, apologist, novelist. He wrote detective fiction and was a formidable literary critic. In all, he succeeded at every form of writing that he turned his hand to.
 
It is not a traditional biography and unfortunately the book has uncovered my deficiencies in English literature and criticism. I struggled at times to follow the arguments and the points of the author. It is a fairly dry read for the non-literary person. 

It would be a valuable resource for a school or theological library. A great introduction to the works of G.K Chesterton, just not my cup of tea.

Disclaimer: A complimentary copy of this DVD was provided to me for review by Thomas Nelson Books http://BookSneeze.com. The opinions I have expressed are my own.

{{review.title}}
By {{review.author.name}},

{{review.reviewCreatedDate | date:'MMM dd yyyy'}}

{{reviewdescription}}
{{review.text}}
---