Delivered From Evil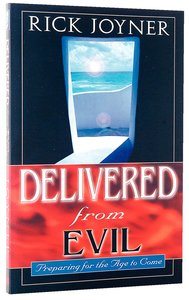 The Church, in its present state, will not survive much longer. We are in need of a radical change! In DELIVERED FROM EVIL his third book in a series on spiritual warfare, Rick Joyner demonstrates how this change will include dismantling the strongholds of fear, confusion and human idealism. He directs Christians to the greatest weapons in their spiritual arsenal: love, humility and restoration.

DELIVERED FROM EVIL heralds the new breed of leadership who will embody these qualities, teaches the biblical meaning of true apostolic calling, and shows how the last-day Church will draw people back to the heart of God.


- Publisher 208 Pages

- Publisher The final book in this prophetic trilogy, Delivered from Evil unveils a secret crucial to ultimate victory. The secret is definitely not what you are thinking. It does not introduce a new slick technique to be used in spiritual warfare. It is not about strategy--it is about the heart. Prophetic author Rick Joyner delivers the compelling argument that the most powerful weapon we have is not the sword we have in our hand, but the love we have in our heart. This book dismantles the strongholds of fear, confusion and human idealism with the power of that secret key. In the end, Joyner demonstrates how our fight is not for our existence, but for the victory of the King and His kingdom. In this book, you will discover the awesome part that you can play in most certain triumph.

- Publisher
You May Also Be Interested In
About "Delivered From Evil"
The Church, in its present state, will not survive much longer. We are in need of a radical change! In DELIVERED FROM EVIL his third book in a series on spiritual warfare, Rick Joyner demonstrates how this change will include dismantling the strongholds of fear, confusion and human idealism. He directs Christians to the greatest weapons in their spiritual arsenal: love, humility and restoration.

DELIVERED FROM EVIL heralds the new breed of leadership who will embody these qualities, teaches the biblical meaning of true apostolic calling, and shows how the last-day Church will draw people back to the heart of God.

- Publisher

208 Pages
- Publisher

The final book in this prophetic trilogy, Delivered from Evil unveils a secret crucial to ultimate victory. The secret is definitely not what you are thinking. It does not introduce a new slick technique to be used in spiritual warfare. It is not about strategy--it is about the heart. Prophetic author Rick Joyner delivers the compelling argument that the most powerful weapon we have is not the sword we have in our hand, but the love we have in our heart. This book dismantles the strongholds of fear, confusion and human idealism with the power of that secret key. In the end, Joyner demonstrates how our fight is not for our existence, but for the victory of the King and His kingdom. In this book, you will discover the awesome part that you can play in most certain triumph.
- Publisher


Meet the Author
Rick Joyner
Rick Joyner is the founder and executive director of MorningStar Publications and Ministries in Charlotte, North Carolina. He has written more than a dozen books, including The Final Quest, The Prophetic Ministry, The Harvest, There Were Two Trees in the Garden, and The Call. Rick is also the editor of The Morning Star Journal and The Morning Star Prophetic Bulletin, and is the director of the MorningStar Fellowship of Ministries and the MorningStar Fellowship of Churches. Rick lives in North Carolina with his wife, Julie, and their five children.