Denominations Comparison (Rose Guide Series)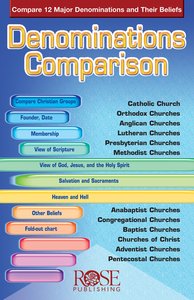 Compare 12 Major Christian Denominations and Their Beliefs
The Denominations Comparison eBook contains a comparison of what 12 Christian denominations believe about Scripture, God, the Trinity, Jesus, and other spiritual issues. This handy guide can be read in less than 30 minutes. It shows you the key beliefs each Christian group holds and includes a "Family Tree of Denominations" diagram that reveals the roots of today's denominations. Denominations Comparison includes: Catholic, Orthodox, Lutheran, Anglican, Presbyterian, Methodist, Anabaptist, Congregational, Baptist, Presbyterian, Churches of Christ, Adventist, and Pentecostal churches.


You May Also Be Interested In
About "Denominations Comparison (Rose Guide Series)"
Compare 12 Major Christian Denominations and Their Beliefs
The Denominations Comparison eBook contains a comparison of what 12 Christian denominations believe about Scripture, God, the Trinity, Jesus, and other spiritual issues. This handy guide can be read in less than 30 minutes. It shows you the key beliefs each Christian group holds and includes a "Family Tree of Denominations" diagram that reveals the roots of today's denominations. Denominations Comparison includes: Catholic, Orthodox, Lutheran, Anglican, Presbyterian, Methodist, Anabaptist, Congregational, Baptist, Presbyterian, Churches of Christ, Adventist, and Pentecostal churches.


- Koorong

Compare 12 Major Christian Denominations and Their Beliefs
The Denominations Comparison eBook contains a comparison of what 12 Christian denominations believe about Scripture, God, the Trinity, Jesus, and other spiritual issues. This handy guide can be read in less than 30 minutes. It shows you the key beliefs each Christian group holds and includes a "Family Tree of Denominations" diagram that reveals the roots of today's denominations. Denominations Comparison includes: Catholic, Orthodox, Lutheran, Anglican, Presbyterian, Methodist, Anabaptist, Congregational, Baptist, Presbyterian, Churches of Christ, Adventist, and Pentecostal churches.
- Publisher

Compare 12 Major Christian Denominations and Their Beliefs
The Denominations Comparison eBook contains a comparison of what 12 Christian denominations believe about Scripture, God, the Trinity, Jesus, and other spiritual issues. This handy guide can be read in less than 30 minutes. It shows you the key beliefs each Christian group holds and includes a "Family Tree of Denominations" diagram that reveals the roots of today's denominations. Denominations Comparison includes: Catholic, Orthodox, Lutheran, Anglican, Presbyterian, Methodist, Anabaptist, Congregational, Baptist, Presbyterian, Churches of Christ, Adventist, and Pentecostal churches.^ "Size: " "8.5"x 5.5" unfolds to 33" long. Fits inside most Bible covers." Each denomination believes in the deity of Christ and the importance of Scripture, so how are the groups different? The "Denominations Comparison" fold-out chart contrasts how denominations differ as well as what they have in common. The 11 areas of comparison include: When it was fou
- Publisher


Other Titles In The "Rose Guide Series" Series View All