Desecration (#04 in Future Savior Series)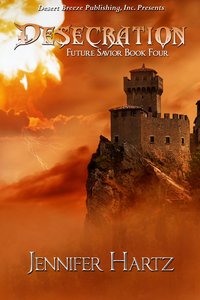 Charis' latest time paradox has left Christina staggering. The history of Meric is being unraveled right before her eyes. While some unimaginable questions are being answered, even more questions start to creep up.

Will they make it out of this place alive? Will they make it back in Meric in time to stop Leticia and save their friends? Will Christina and Shaw ever be married? Will Rayliex, with all his powers, join their side?

Only time holds the answers to these questions. Considering Christina isn't even in her own time, she's not so sure anymore. One thing is for certain; no one could have ever guessed that Meric's origins would have been in this place

- Publisher
You May Also Be Interested In
About "Desecration (#04 in Future Savior Series)"
Charis' latest time paradox has left Christina staggering. The history of Meric is being unraveled right before her eyes. While some unimaginable questions are being answered, even more questions start to creep up.

Will they make it out of this place alive? Will they make it back in Meric in time to stop Leticia and save their friends? Will Christina and Shaw ever be married? Will Rayliex, with all his powers, join their side?

Only time holds the answers to these questions. Considering Christina isn't even in her own time, she's not so sure anymore. One thing is for certain; no one could have ever guessed that Meric's origins would have been in this place
- Publisher


Meet the Author
Jennifer Hartz
Jennifer Hartz wrote and illustrated her first novel, an epic tale featuring winged fairies losing their magic wands to evil trolls, back when she was six years old. She has been a fan of fantasy and science fiction ever since. From the land of Mordor to a galaxy far, far away, Jennifer loves it all.Born in Pittsburgh, but currently living in northeast North Carolina with her amazing husband and beautiful son, Jennifer spends her days teaching at a small private school in Norfolk, Virgina. Other than reading the Bible, Jennifer loves to read (and now write) Speculative Christian Ficion that has wonderful romantic storylines and exciting twists and turns.The Future Savior series is Jennifer's first crack at a novel since the early days of fairy wand heists and she couldn't be more thrilled with its quick success.
Other Titles In The "Future Savior Series" Series