Designing a Lifestyle That Pleases God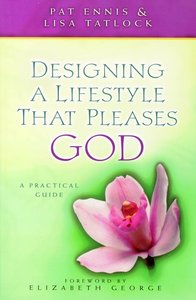 How does one live out being a "wise woman?" This guide gives feet to the life-changing message of Becoming a Woman Who Pleases God. The authors have included practical ideas for personal growth based on Scripture's instruction to "be wise." This guide will challenge women to delve deep into the wonders and blessings of being a woman who pleases God.

- Publisher The principles described in "Becoming a Woman Who Pleases God" are further explored in this follow-up that encourages Christian women desiring to learn how to determine their role in life and continue their spiritual growth.

- Publisher Are you pulling out your hair trying to be the perfect soccer mom, living wife, and devoted church volunteer all at the same time? Here, Pat Ennis and Lisa Tatlock share their wealth of wisdom and teach women how to design a lifestyle that pleases God. They identify the biblical priorities found in Titus 2:3-5. Designing a Lifestyly that Pleases God will encourage women of all ages to wisely build their homes (Proverbs 14:I) and set their priorities according to the Lord's values. The message will not only help you develop Christian character, but also provide practical, skill-building tips from two leading home economics professors. Book jacket.

- Publisher
You May Also Be Interested In
About "Designing a Lifestyle That Pleases God"
How does one live out being a "wise woman?" This guide gives feet to the life-changing message of Becoming a Woman Who Pleases God. The authors have included practical ideas for personal growth based on Scripture's instruction to "be wise." This guide will challenge women to delve deep into the wonders and blessings of being a woman who pleases God.
- Publisher

The principles described in "Becoming a Woman Who Pleases God" are further explored in this follow-up that encourages Christian women desiring to learn how to determine their role in life and continue their spiritual growth.
- Publisher

Are you pulling out your hair trying to be the perfect soccer mom, living wife, and devoted church volunteer all at the same time? Here, Pat Ennis and Lisa Tatlock share their wealth of wisdom and teach women how to design a lifestyle that pleases God. They identify the biblical priorities found in Titus 2:3-5. Designing a Lifestyly that Pleases God will encourage women of all ages to wisely build their homes (Proverbs 14:I) and set their priorities according to the Lord's values. The message will not only help you develop Christian character, but also provide practical, skill-building tips from two leading home economics professors. Book jacket.
- Publisher


Meet the Authors
Pat Ennis
Pat Ennis taught home economics for the San Diego Unified School District before developing and establishing the Home Economics Department at Christian Heritage College located in El Cajon, California, at the request of Tim LaHaye. She moved to the Master?'s College in 1987, at the invitation of John MacArthur, to establish the Home Economics-Family and Consumer Science Department that she currently chairsPat is the author of Precious in His Sight: The Fine Art of Becoming a Godly Woman; and coauthor, along with Lisa Tatlock, of Becoming a Woman Who Pleases God: A Guide to Your Biblical Potent
Lisa Tatlock
Lisa Tatlock is an associate professor of Home Economics at The Master's College in Santa Clarita, California.
Table Of Contents
1. The Wise Woman's Lifestyle Reflects Her Heavenly Heritage

2. The Wise Woman Understands And Applies

3. the Wise Woman Embraces Submission

4. The Wise Woman Visualizes Her Profession As A High Calling

5. The Wise Woman Manages Motherhood With Excellence

6. The Wise Woman Implements Stewardship

7. The Wise Woman Cultivates A Hostess' Heart

8. The Wise Woman Creates A Beautiful Home

9. the Wise Woman Dresses With Discernment

10. The Wise Woman Exemplifies Spiritual And Physical Beauty
Excerpt
Excerpt from: Designing a Lifestyle That Pleases God
Women do not have an accurate definition of biblical submission. The world belittles most forms of submission to authority. Many Christian women forget that submission is a requirement for all Christians-not just women. Women do have an added dimension to submission if they are married-they are called to additionally submit to their husbands. But submission is a spiritual issue, not a women's issue. Submission does not mean that I am inferior to my husband or men, weak in intelligence, or lacking in strength; submission means that I am being obedient to God and His Word. I share with young women that submission is an umbrella of protection for me as a woman, not a stifling rope around my neck. Submission is meant for my good.

Customer Reviews For "Designing a Lifestyle That Pleases God"
Write Your Own Review
Great book
By Jenna Priest,

Apr 09 2013
I bought this because I enjoyed Pat Ennis's other book Becoming A Woman Who Pleases God. I enjoyed this book as much as the other one. It is a fantastic resource for Christian women and gives sound advice to those wishing to life a fulfilling  and Godly life.
{{review.title}}
By {{review.author.name}},

{{review.reviewCreatedDate | date:'MMM dd yyyy'}}

{{reviewdescription}}
{{review.text}}
---