Desiring God's Will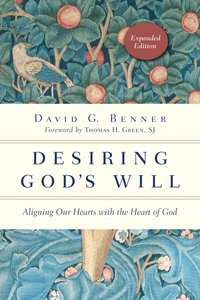 :Most people think of God's will as something to be found or as the receiving of guidance from God when making decisions. Too often, however, the problem is not that we don't know what God desires for our lives, but rather that we just don't want to do what we already know he wants. How might our wills be changed so that we become both willing and able to do what God asks of us?In Desiring God's Will psychologist and spiritual director David G. Benner explores the transformation of the will in Christian spirituality. He examines why our desires are disordered and how our human volition can be brought into alignment with God's intentions so that we willingly choose that which God wants for us. In so doing, Benner shows us that cultivating discernment and being attuned to God's desires is the path to true life, spiritual health and freedom.God wants to change our choosing, not just our choices. By aligning our hearts with God's, we will find liberation from the kingdom of self and instead experience the joy of the kingdom of God.This expanded edition, one of three titles in The Spiritual Journey trilogy, includes a new epilogue and an experiential guide with questions for individual reflection or group discussion.

- Publisher
You May Also Be Interested In
About "Desiring God's Will"
:Most people think of God's will as something to be found or as the receiving of guidance from God when making decisions. Too often, however, the problem is not that we don't know what God desires for our lives, but rather that we just don't want to do what we already know he wants. How might our wills be changed so that we become both willing and able to do what God asks of us?In Desiring God's Will psychologist and spiritual director David G. Benner explores the transformation of the will in Christian spirituality. He examines why our desires are disordered and how our human volition can be brought into alignment with God's intentions so that we willingly choose that which God wants for us. In so doing, Benner shows us that cultivating discernment and being attuned to God's desires is the path to true life, spiritual health and freedom.God wants to change our choosing, not just our choices. By aligning our hearts with God's, we will find liberation from the kingdom of self and instead experience the joy of the kingdom of God.This expanded edition, one of three titles in The Spiritual Journey trilogy, includes a new epilogue and an experiential guide with questions for individual reflection or group discussion.
- Publisher


Meet the Author
David G Benner
David G. Benner (Ph.D., York University)is an internationally known psychologist, author, spiritual guide, and personal transformation coach who has spent thirty-five years integrating psychology and spirituality. He currently serves as emeritus distinguished professor of psychology and spirituality at Richmont Graduate University in Atlanta, Georgia, and an associate fellow at the Centre for Studies in Religion and Society at University of Victoria in British Columbia, Canada.


He was professor of psychology at Redeemer College (Ontario) and a practicing clinical psychologist. He is the author or editor of twenty books, including the Baker Encyclopedia of Psychology and Counseling and most recently Spirituality and the Awakening Self: The Sacred Journey of Transformation; Soulful Spirituality: Becoming Fully Alive and Deeply Human and Opening to God: Lectio Divina and Life as Prayer
Koorong -Editorial Review.
Table Of Contents
:foreword By Fr. Thomas Greenpreface: Willing God's Way1. Ways Of Willing2. My Kingdom, Thy Kingdom3. Love And Will4. Choosing God5. Will And Desire6. Choosing The Cross7. Developing A Discerning Heartepilogue: The Heart Of The Spiritual Journey

Appendix: For Reflection And Discussiona Four-session Discussion Guide To Desiring God's Willa One-session Discussion Guide To Desiring God's Willnotes