Destiny Thieves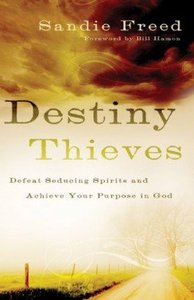 God has a plan for every one of his children. But there are powers working against this plan that attempt to subvert the destiny of believers. Just as Adam and Eve were seduced into sin by the serpent, Christians today still experience these destructive powers that threaten to steal their divine destiny. In Destiny Thieves, prophetically gifted Sandie Freed shares the story of her own struggle, as well as many biblical accounts of the struggles of God's people, with the demonically inspired obstacles that stand in the way of breakthrough. This liberating book shows readers the tactics Satan uses against believers, identifies particular seducing spirits, and charges believers with a new level of faith to go forward and claim the victorious life God has planned for them.

- Publisher Satan wants to steal your destiny. God is offering you a destiny greater than any you have ever dreamed of as you seek to build His Kingdom. But Satan is working relentlessly to distract, seduce and shame you into defeat. In an impassioned call for discernment and holiness, prophet Sandie Freed warns of Satan - 's schemers?'the same - ?destiny thieves - ? he has been using since the beginning of time: Belial, a spirit of shame; Amalekite, a spirit that preys on the weak; Jezebel, a spirit of seduction and control; and others. Freed draws on her extensive experience in ministry and leadership to demonstrate the vital importance of discernment and obedience in overcoming these thieves. Read and discover how to thwart the plans of the enemy and enjoy the destiny that is rightfully yours. - ?I loved this book! Destiny Thieves is a ?'treasury of swords - ? for any prayer warrior who wants to conquer his or her enemy! - - - Chuck Pierce, president, Glory of Zion International - ?A must-read for every church leader and saint in the Body of Christ. - - - Jane Hamon, apostle and co-pastor, Christian International Family Church - ?Here is a great book, written from practical experience, that discusses how to identify the enemy and then what to do about it. - - - Barbara Yoder, senior pastor, Shekinah Christian Church ?'This book will be a liberating force to set captives free and equip the saints with revelation knowledge and spiritual truth. - - - from the foreword by Dr. Bill Hamon, chairman, founder and bishop, Christian International Ministries Network Sandie Freed and her husband, Mickey, are the founders and directors of Zion Ministries in Hurst, Texas. She is an ordained prophet with ChristianInternational and travels extensively ministering deliverance and life transformation to God - 's people.

- Publisher
You May Also Be Interested In
About "Destiny Thieves"
God has a plan for every one of his children. But there are powers working against this plan that attempt to subvert the destiny of believers. Just as Adam and Eve were seduced into sin by the serpent, Christians today still experience these destructive powers that threaten to steal their divine destiny. In Destiny Thieves, prophetically gifted Sandie Freed shares the story of her own struggle, as well as many biblical accounts of the struggles of God's people, with the demonically inspired obstacles that stand in the way of breakthrough. This liberating book shows readers the tactics Satan uses against believers, identifies particular seducing spirits, and charges believers with a new level of faith to go forward and claim the victorious life God has planned for them.
- Publisher

Satan wants to steal your destiny. God is offering you a destiny greater than any you have ever dreamed of as you seek to build His Kingdom. But Satan is working relentlessly to distract, seduce and shame you into defeat. In an impassioned call for discernment and holiness, prophet Sandie Freed warns of Satan - 's schemers?'the same - ?destiny thieves - ? he has been using since the beginning of time: Belial, a spirit of shame; Amalekite, a spirit that preys on the weak; Jezebel, a spirit of seduction and control; and others. Freed draws on her extensive experience in ministry and leadership to demonstrate the vital importance of discernment and obedience in overcoming these thieves. Read and discover how to thwart the plans of the enemy and enjoy the destiny that is rightfully yours. - ?I loved this book! Destiny Thieves is a ?'treasury of swords - ? for any prayer warrior who wants to conquer his or her enemy! - - - Chuck Pierce, president, Glory of Zion International - ?A must-read for every church leader and saint in the Body of Christ. - - - Jane Hamon, apostle and co-pastor, Christian International Family Church - ?Here is a great book, written from practical experience, that discusses how to identify the enemy and then what to do about it. - - - Barbara Yoder, senior pastor, Shekinah Christian Church ?'This book will be a liberating force to set captives free and equip the saints with revelation knowledge and spiritual truth. - - - from the foreword by Dr. Bill Hamon, chairman, founder and bishop, Christian International Ministries Network Sandie Freed and her husband, Mickey, are the founders and directors of Zion Ministries in Hurst, Texas. She is an ordained prophet with ChristianInternational and travels extensively ministering deliverance and life transformation to God - 's people.
- Publisher


Meet the Author
Sandie Freed
Sandie Freed and her husband, Mickey, are the founders and directors of Zion Ministries in North Richland Hills, Texas. She is an ordained prophetess with Christian International and travels extensively, ministering deliverance and life transformation to God's people. She is the author of four books, including Destiny Thieves and Strategies from Heaven's Throne, and has been a featured guest on James Robison's Life Today and Daystar's Celebration. Most recently she has authored Conquering the Antichrist Spirit and Breaking the Threefold Demonic Cord.