Destiny's Bride (#08 in Brides Of Montclair Series)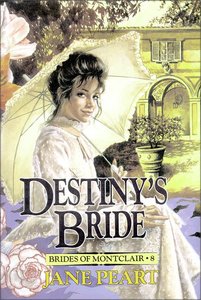 Readers will welcome this latest inspirational romance in the saga of the Montrose family. Druscilla Montrose becomes governess of the Montrose plantation after her cousin Alair's mysterious death. Dru eventually marries Alair's surviving husband Randall, but will any love come of this complicated marriage of convenience?

- Publisher Even while Randall was speaking, it was Pietro I saw, the tenderness in his dark eyes looking at me, the caress in his soft voice. In Randall's voice there was not a shred of emotion; nor was there any in his expression. How should I respond? What should I say? I knew this was the hardest decision I would ever have to make. Either choice would demand a different price. Was I prepared to pay it? Was love enough in the one to bridge all the other differences of nationality, religion, and heritage? Was family loyalty, future security enough to decide for the other? What was my destiny? The heroine of Destiny's Bride is Druscilla Montrose, who first meets Randall Bondurant when she is a bridesmaid at his wedding to her cousin Alair Chance. Eight years later, after Alair's mysterious death, they meet again in a chance encounter. This leads to a strange series of events in which Druscilla debates, then accepts the position offered her by Alair's widower. Against all advice, Dru becomes governess to her two motherless little cousins, a difficult decision because of the suspicions and accusations of family and friends that Randall might have been responsible for his wife's death. She travels with the family to Italy. Here against the romantic background of nineteenth-century Europe, Druscilla receives two unexpected offers: One is a love that will mean giving up her heritage; the other requires a decision more important than any she has ever had to make before. Dru's choices bring her into conflicts of loyalty, challenges of faith and duty, and threatened danger, as well as romance.

- Publisher Book 8 of the Brides of Montclair series is another inspirational romance in the sage of the Montrose family, relating the story of Druscilla Montrose.

- Publisher
You May Also Be Interested In
About "Destiny's Bride (#08 in Brides Of Montclair Series)"
Readers will welcome this latest inspirational romance in the saga of the Montrose family. Druscilla Montrose becomes governess of the Montrose plantation after her cousin Alair's mysterious death. Dru eventually marries Alair's surviving husband Randall, but will any love come of this complicated marriage of convenience?
- Publisher

Even while Randall was speaking, it was Pietro I saw, the tenderness in his dark eyes looking at me, the caress in his soft voice. In Randall's voice there was not a shred of emotion; nor was there any in his expression. How should I respond? What should I say? I knew this was the hardest decision I would ever have to make. Either choice would demand a different price. Was I prepared to pay it? Was love enough in the one to bridge all the other differences of nationality, religion, and heritage? Was family loyalty, future security enough to decide for the other? What was my destiny? The heroine of Destiny's Bride is Druscilla Montrose, who first meets Randall Bondurant when she is a bridesmaid at his wedding to her cousin Alair Chance. Eight years later, after Alair's mysterious death, they meet again in a chance encounter. This leads to a strange series of events in which Druscilla debates, then accepts the position offered her by Alair's widower. Against all advice, Dru becomes governess to her two motherless little cousins, a difficult decision because of the suspicions and accusations of family and friends that Randall might have been responsible for his wife's death. She travels with the family to Italy. Here against the romantic background of nineteenth-century Europe, Druscilla receives two unexpected offers: One is a love that will mean giving up her heritage; the other requires a decision more important than any she has ever had to make before. Dru's choices bring her into conflicts of loyalty, challenges of faith and duty, and threatened danger, as well as romance.
- Publisher

Book 8 of the Brides of Montclair series is another inspirational romance in the sage of the Montrose family, relating the story of Druscilla Montrose.
- Publisher


Meet the Author
Jane Peart
Jane Peart was a best-selling novelist in both the secular and Christian markets. Her beloved Brides of Montclair Series is one of the longest continuous series on the market. She also published the American Quilts Series, and the Orphan Train Trilogy.
Other Titles In The "Brides Of Montclair" Series View All