Deuteronomy/Hebrews (Understanding The Books Of The Bible Series)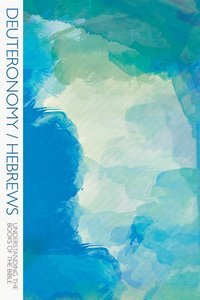 $

11.99

$

9.59
You Save: $2.40 (20%)
Paperback
At first glance, Deuteronomy and Hebrews might seem very different from each other. In actuality, however, they're quite similar. Both are records of public addresses delivered at particularly pivotal times in the history of God and his people. Deuteronomy speaks to those living a generation after the most significant saving work of God in the Old Testament: the exodus. Hebrews speaks to those living a generation after the most significant saving work of God ever: the incarnation, life, death and resurrection of Jesus Christ. Both acts of salvation changed the relationship between God and humanity in dramatic ways and provided a new picture of the depths of God's power and love for the people he chose as his own. Deuteronomy and Hebrews, then, are both a call to embrace the new gift of salvation God has given and the new type of relationship God has made possible between himself and sinful humans. God's great work of salvation in Jesus Christ continues today. These studies not only help us make sense of Deuteronomy and Hebrews but also hold out the same invitation these two books of Scripture extended to God's people generations ago: Accept God's saving acts. Come closer and closer to him. And embrace his continuing work of forming us into a people who make his name known through all generations. The Understanding the Books of the Bible series moves groups away from a typical Bible study format into a new approach to experiencing the Bible together. Instead of following artificial chapter and verse divisions, these study guides lead groups through whole books following their natural outlines and flow. They pose engaging questions for discussion with personal implications all along the way, leading to a community Bible experience.

- Publisher
You May Also Be Interested In
About "Deuteronomy/Hebrews (Understanding The Books Of The Bible Series)"
At first glance, Deuteronomy and Hebrews might seem very different from each other. In actuality, however, they're quite similar. Both are records of public addresses delivered at particularly pivotal times in the history of God and his people. Deuteronomy speaks to those living a generation after the most significant saving work of God in the Old Testament: the exodus. Hebrews speaks to those living a generation after the most significant saving work of God ever: the incarnation, life, death and resurrection of Jesus Christ. Both acts of salvation changed the relationship between God and humanity in dramatic ways and provided a new picture of the depths of God's power and love for the people he chose as his own. Deuteronomy and Hebrews, then, are both a call to embrace the new gift of salvation God has given and the new type of relationship God has made possible between himself and sinful humans. God's great work of salvation in Jesus Christ continues today. These studies not only help us make sense of Deuteronomy and Hebrews but also hold out the same invitation these two books of Scripture extended to God's people generations ago: Accept God's saving acts. Come closer and closer to him. And embrace his continuing work of forming us into a people who make his name known through all generations. The Understanding the Books of the Bible series moves groups away from a typical Bible study format into a new approach to experiencing the Bible together. Instead of following artificial chapter and verse divisions, these study guides lead groups through whole books following their natural outlines and flow. They pose engaging questions for discussion with personal implications all along the way, leading to a community Bible experience.
- Publisher


Meet the Author
Christopher Smith
Rev. Dr. Christopher Smith (Ph.D., Boston College and Andover Newton Theological School) is Pastor of the University Baptist Church of East Lansing, Michigan (American Baptist). His articles have appeared in such publications as The Journal for the Study of the Old Testament, New Testament Studies, Novum Testamentum, and Vigilae Christianae.


He was a consulting editor to Biblica for The Books of The Bible, an edition of the Scriptures that presents the Bible without chapters and verses. One of the translators for The Voice, a contemporary version of the Bible that will be published in 2010
His other books include The Beauty Behind the Mask; The Books of The Bible (contributing editor), and After Chapters and Verses .
Table Of Contents
How These Study Guides Are Different

deuteronomy

Outline Of Deuteronomy

Map Of Places Mentioned In Deuteronomy

Session 1 Experiencing The Book Of Deuteronomy As A Whole

Session 2 Moses Describes How God Has Led The Israelites To The Edge Of The Promised Land

Session 3 Moses Urges The Current Generation Of Israelites To Join In God's Covenant

Session 4 Moses Describes What Exclusive Allegiance To The Lord Must Look Like

Session 5 Moses Reviews The Nation's Past Disloyalty As A Negative Example

Session 6 How The Obligation Of Exclusive Allegiance Is To Be Lived Out Practically

Session 7 Generosity In The Context Of Worship

Session 8 The Administration Of Justice

Session 9 The Concern For Justice Expands Into A Vision For Doing Right By Others

Session 10 No Cheating

Session 11 Moses Describes The Covenant Ratification Ceremony

Session 12 Moses Looks To The Future And Names A Successor, Witnesses And Custodians

Session 13 Moses Teaches The Israelites A Song Of Warning

Chart Of The Names Of The Tribes Of Israel

Session 14 Moses Blesses The Tribes Of Israel And Views The Land Of Canaan Before He Dies

hebrews

Outline Of Hebrews

Session 15 Experiencing The Book Of Hebrews As A Whole

Session 16 The Covenant Jesus Announces Is Far Greater Than The One Announced By Angels

Session 17 Jesus Is The Apostle Who Leads Us Into God's Rest

Session 18 The Qualifications Of A High Priest--and A Word Of Challenge

Session 19 Jesus, As A Melchizedek Priest, Has A Superior Ministry To The Levitical Priests

Session 20 The Death Of Jesus Is The Only Sacrifice We Ever Need

Session 21 Drawing Near To God, Holding On To Hope, Practicing Love And Good Deeds

Session 22 The Evidence Of Faith In The Lives Of Men And Women Whom God Commended

Session 23 The Great Cloud Of Witnesses And The Heavenly City

Session 24 Living Out Faith In Community Life
Other Titles In The "Understanding The Books Of The Bible" Series View All