Developing a Strategy For Missions (Encountering Mission Series)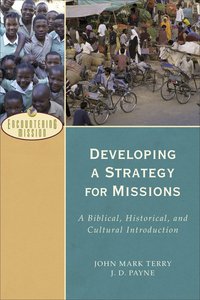 In this addition to the highly acclaimed Encountering Mission series, two leading missionary scholars offer an up-to-date discussion of missionary strategy that is designed for a global audience. The authors focus on the biblical, missiological, historical, cultural, and practical issues that inform and guide the development of an effective missions strategy. The book includes all the features that have made other series volumes useful classroom tools, such as tables, diagrams, box inserts, sidebars, chapter summaries, discussion questions, and a list of key terms. Students of global or domestic mission work and mission practitioners will value this new resource.

- Publisher
You May Also Be Interested In
About "Developing a Strategy For Missions (Encountering Mission Series)"
In this addition to the highly acclaimed Encountering Mission series, two leading missionary scholars offer an up-to-date discussion of missionary strategy that is designed for a global audience. The authors focus on the biblical, missiological, historical, cultural, and practical issues that inform and guide the development of an effective missions strategy. The book includes all the features that have made other series volumes useful classroom tools, such as tables, diagrams, box inserts, sidebars, chapter summaries, discussion questions, and a list of key terms. Students of global or domestic mission work and mission practitioners will value this new resource.
- Publisher


Meet the Authors
John Mark Terry
John Mark Terry is associate professor of evangelism and missions at Southern Baptist Theological Seminary and Associate Dean of the Billy Graham School of Missions.
J D Payne
J.D. Payne (Ph.D., The Southern Baptist Theological Seminary) is a national missionary with the North American Mission Board and an assistant professor of Evangelism and Church Planting in the Billy Graham School of Missions, Evangelism, and Church Growth at the Southern Baptist Theological Seminary. He holds memberships in the Evangelical Theological Society, Evangelical Missiological Society, and American Society for Church Growth.
He has written numerous articles and reviews in the area of missions and evangelism. He is also the founder of the web-based resource northamericanmissions.org. He has authored Missional House Churches: Reaching Our Communities with the Gospel (Paternoster), The Barnabas Factors: Eight Essential Practices of Church Planting Team Members (Missional Press), Discovering Church Planting: An Introduction to the Whats, Whys, and Hows of Global Church Planting (Paternoster), and Evangelism DQA (Deepest Questions Answered): A Biblical Guide to the Questions Youve Always Wondered About (Paternoster 2010).
Koorong -Editorial Review.
Table Of Contents
contents
1. Strategy Defined
2. The Crafting Of Mission Strategy
3. Contemporary Objections To Missionary Strategy
4. Strategic Planning In Biblical Perspective
5. Missiological Principles For Strategy Development
6. The Apostle Paul's Missionary Strategy
7. Missions Strategy In The Early Church
8. Roman Catholic Strategy
9. Pioneer Protestant Strategies
10. Faith Missions Strategy
11. Mission Strategies On The American Frontier
12. The Indigenous Mission Strategy
13. The Church Growth Movement
14. Frontier Strategies
15. Contextualization Strategies
16. Understanding Cultural Research
17. Developing A People-group Profile
18. Developing A Communication Strategy
19. Discerning Receptivity
20. Discerning Need
21. Visioning For The Future
22. Forming A Team
23. Assessing The Resources
24. Setting Goals
25. Choosing Appropriate Methods
26. Execution
27. Evaluation
appendix
indexes
Other Titles In The "Encountering Mission" Series View All