Devotions on the Greek New Testament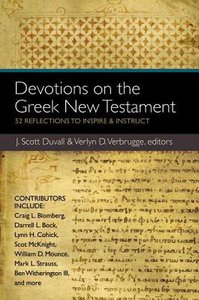 Zondervan is known for its excellent resources in biblical languages, and many of our resources encourage professors, students, and pastors to continue to use their Hebrew and Greek Bibles beyond their seminary years. Devotions on the Greek New Testament continues on this path of excellence by introducing these devotions---based on a careful reading and study of the Greek New Testament---written by some of the top Greek scholars of today. Contributors include Scot McKnight, Daniel B. Wallace, Craig L. Blomberg, Mark Strauss, and William D. Mounce, among others. Devotions on the Greek New Testament can be used as weekly devotional or as a supplemental resource throughout a semester or sequence of courses. The main point each devotion offers comes from a careful reading of the passage in the Greek New Testament, not from the English Bible. These authors use a variety of exegetical approaches in their devotions: grammatical, lexical, rhetorical, sociohistorical, linguistic, etc. Each devotion closes with a practical application.

- Publisher
You May Also Be Interested In
About "Devotions on the Greek New Testament"
Zondervan is known for its excellent resources in biblical languages, and many of our resources encourage professors, students, and pastors to continue to use their Hebrew and Greek Bibles beyond their seminary years. Devotions on the Greek New Testament continues on this path of excellence by introducing these devotions---based on a careful reading and study of the Greek New Testament---written by some of the top Greek scholars of today. Contributors include Scot McKnight, Daniel B. Wallace, Craig L. Blomberg, Mark Strauss, and William D. Mounce, among others. Devotions on the Greek New Testament can be used as weekly devotional or as a supplemental resource throughout a semester or sequence of courses. The main point each devotion offers comes from a careful reading of the passage in the Greek New Testament, not from the English Bible. These authors use a variety of exegetical approaches in their devotions: grammatical, lexical, rhetorical, sociohistorical, linguistic, etc. Each devotion closes with a practical application.
- Publisher


Meet the Author
J Scott Duvall
Scott Duvall (Ph.D., Southwestern Baptist Theological Seminary) is dean of the Pruet School of Christian Studies and professor of New Testament at Ouachita Baptist University. He is the co-author with George H. Guthrie of Biblical Greek Exegesis: A Graded Approach to Learning Intermediate and Advanced Greek and with Terry G.Carter and J. Daniel Hays of the textbook Preaching God's Word: A Hands on Approach to Preparing, Developing and Delivering the Sermon and also Grasping God's Word; Dictionary of Biblical Prophecy and End Times and Journey into God's Word.. His most recent pubication is Experiencing God's Story of Life and Hope.
Koorong -Editorial Review.