Diagnosis Death (#03 in Prescription For Trouble Series)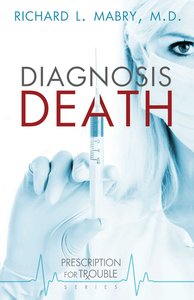 2011 RT Book Reviews Reviewers' Choice Award Finalist The threatening midnight calls followed Dr. Elena Gardner from one city to another, prolonging her grief. Even worse, they are echoed by the whispers of her own colleagues. Whispers that started after her comatose husband died in the ICU ... then another mysterious death during her training. When a third happens at her new hospital, the whispers turn into a shout: "Mercy killer!" Why doesn't she defend herself? What is the dark secret that keeps Elena's lips sealed? Two physicians, widowers themselves, offer support, telling Elena they know what she is going through after the death of her husband. But do they? And is it safe to trust either of them with her secret? Soon Elena will find that even when the world seems to be against her, God is for her, if she'll only trust him.

- Publisher
You May Also Be Interested In
About "Diagnosis Death (#03 in Prescription For Trouble Series)"
2011 RT Book Reviews Reviewers' Choice Award Finalist The threatening midnight calls followed Dr. Elena Gardner from one city to another, prolonging her grief. Even worse, they are echoed by the whispers of her own colleagues. Whispers that started after her comatose husband died in the ICU ... then another mysterious death during her training. When a third happens at her new hospital, the whispers turn into a shout: "Mercy killer!" Why doesn't she defend herself? What is the dark secret that keeps Elena's lips sealed? Two physicians, widowers themselves, offer support, telling Elena they know what she is going through after the death of her husband. But do they? And is it safe to trust either of them with her secret? Soon Elena will find that even when the world seems to be against her, God is for her, if she'll only trust him.
- Publisher


Meet the Author
Richard Mabry
Richard L. Mabry, MD, is a retired physician and medical school pro-fessor who achieved worldwide recognition as a writer, speaker, and teacher before turning his talents to non-medical writing after his re-tirement. His first novel, Code Blue, will be published by Abingdon in the Spring of 2010. He is also the author of one non-fiction book, and his inspirational pieces have appeared in numerous periodicals. He and his wife, Kay, live in northern Texas. Check out his website at www.rmabry.com for more information.
Other Titles In The "Prescription For Trouble" Series View All