Discipleshift: Five Steps That Help Your Church to Make Disciples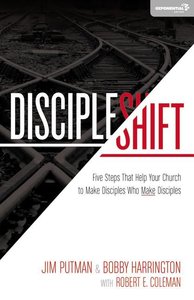 $

22.99

$

18.39
You Save: $4.60 (20%)
Paperback
Over the last thirty years, many influential church leaders and church planters in America have adopted various models for reaching unchurched people. An 'attractional' model will seek to attract people to a local church. Younger leaders may advocate a more 'missional' approach, in which believers live and work among unchurched people and intentionally seek to serve like Christ. While each of these approaches have merit, something is still missing, something even more fundamental to the mission of the church: discipleship. Making disciples---helping people to trust and follow Jesus---is the church's God-given mandate. Devoted disciples attract people outside the church because of the change others see in their Christ-like lives. And discipleship empowers Christians to be more like Christ as they intentionally develop relationship with non-believers. DiscipleShift walks you through five key 'shifts' that churches must make to refocus on the biblical mission of discipleship. These intentional changes will attract the world and empower your church members to be salt and light in their communities.

- Publisher
You May Also Be Interested In
About "Discipleshift: Five Steps That Help Your Church to Make Disciples"
Over the last thirty years, many influential church leaders and church planters in America have adopted various models for reaching unchurched people. An 'attractional' model will seek to attract people to a local church. Younger leaders may advocate a more 'missional' approach, in which believers live and work among unchurched people and intentionally seek to serve like Christ. While each of these approaches have merit, something is still missing, something even more fundamental to the mission of the church: discipleship. Making disciples---helping people to trust and follow Jesus---is the church's God-given mandate. Devoted disciples attract people outside the church because of the change others see in their Christ-like lives. And discipleship empowers Christians to be more like Christ as they intentionally develop relationship with non-believers. DiscipleShift walks you through five key 'shifts' that churches must make to refocus on the biblical mission of discipleship. These intentional changes will attract the world and empower your church members to be salt and light in their communities.
- Publisher


Meet the Authors
Jim Putman
Jim Putman is the senior pastor of Real Life Ministries in Post Falls, Idaho, one of the fastest-growing churches in America. Prior to moving to Real Life Ministries, he served as a youth minister for nine years in two small churches. He was a three-time all-American wrestler in college as well as a successful wrestling coach. Putman holds degrees from Boise State University and Boise Bible College
Robert E Coleman
Robert E. Coleman is Distinguished Professor of Evangelism and Discipleship at Gordon-Conwell Theological Seminary in South Hamilton, MA. Formerly, he was dean of the International Billy Graham Schools of Evangelism and directed the Institute of Evangelism at the Billy Graham Center in Wheaton, IL., while also directing the School of World Mission and Evangelism at Trinity Evangelical Divinity in Deerfield, IL. A founding member of the Lausanne Committee for World Evangelization, he is the author of hundreds of articles and about twenty books. His books have been published in over 100 languages with English editions alone passing seven million copies in print.
Bob Harrington
Dr. Bobby Harrington is the founding and lead pastor of Harpeth Community Church, just beside the Harpeth River, south of Nashville, Tennessee. Harpeth Community Church was launched in 1998 as an 'Attractional Church, ' that is now making the transition to being a 'Relational Discipleship Church.' Bobby has a doctor of ministry degree from Southern Baptist Theological seminary, and along with Jim Putman, Bobby is one of the founders of the Relational Discipleship Network. Bobby served as the director of Research, Development, and Missional Leadership for Stadia, a national church planting orga
Media