Discover Your Destiny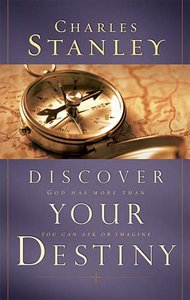 272 Pages

- Publisher < p> This retitled and repackaged edition of < i> The Reason For My Hope< /i> explores how God's grace and love can strengthen, rebuild, and restore. Stanley guides readers to eternal, unshakable hope based on a personal relationship with Jesus Christ that can empower believers to rise victoriously from the most desperate situations. Even when you are suffering, God is in control, perfectly present, able, and at work. To the hurting and the troubled He imparts His righteousness, His perspective, His wisdom, and His faith. Above any difficulty, God is working for your ultimate good and eternal future. He is the source to which you can go when you desire to < i> Discover Your Destiny.< /i> < /p>

- Publisher
You May Also Be Interested In
About "Discover Your Destiny"
272 Pages
- Publisher

< p> This retitled and repackaged edition of < i> The Reason For My Hope< /i> explores how God's grace and love can strengthen, rebuild, and restore. Stanley guides readers to eternal, unshakable hope based on a personal relationship with Jesus Christ that can empower believers to rise victoriously from the most desperate situations. Even when you are suffering, God is in control, perfectly present, able, and at work. To the hurting and the troubled He imparts His righteousness, His perspective, His wisdom, and His faith. Above any difficulty, God is working for your ultimate good and eternal future. He is the source to which you can go when you desire to < i> Discover Your Destiny.< /i> < /p>
- Publisher


Meet the Author
Charles F Stanley
Dr. Charles F. Stanley is founder and president of In Touch Ministries, which is broadcast on both television and radio around the world in eighty languages. He has also been the senior pastor of the 15,000-member First Baptist Church in Atlanta, Georgia, for more than thirty years. Dr. Stanley received his bachelor of arts degree from the University of Richmond, his bachelor of divinity degree from Southwestern Theological Seminary, and his master's and doctor's degrees from Luther Rice Seminary. He has twice been elected president of the Southern Baptist Convention and is the author of many books, including God Is in Control, Seeking His Face, Walking Wisely, When the Enemy Strikes, Success God's Way, and How to Listen to God.- Publisher.