Discover Your Spiritual Gifts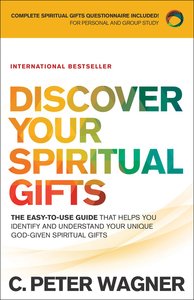 Which of God's gifts has your name on it?

When you become a follower of Christ, you receive gifts from the Holy Spirit. How can you know for certain which gifts you have? And once you do know, how should you use your gifts to best serve God? Discover Your Spiritual Gifts gives you life-changing answers to these questions and more.

In this trusted study, you will be introduced to the 28 biblical gifts, learn the definition and history of each one and examine biblical and modern-day examples of people who share those gifts. By using the included questionnaire, you will be able to identify your specific gifts and find ways to use them in a community of faith. This edition contains a new Bible study for personal reflection or for use in a small-group setting that will help you explore in greater detail each of the gifts that Dr. Wagner discusses.

- Publisher
You May Also Be Interested In
About "Discover Your Spiritual Gifts"
Which of God's gifts has your name on it?

When you become a follower of Christ, you receive gifts from the Holy Spirit. How can you know for certain which gifts you have? And once you do know, how should you use your gifts to best serve God? Discover Your Spiritual Gifts gives you life-changing answers to these questions and more.

In this trusted study, you will be introduced to the 28 biblical gifts, learn the definition and history of each one and examine biblical and modern-day examples of people who share those gifts. By using the included questionnaire, you will be able to identify your specific gifts and find ways to use them in a community of faith. This edition contains a new Bible study for personal reflection or for use in a small-group setting that will help you explore in greater detail each of the gifts that Dr. Wagner discusses.
- Publisher


Meet the Author
C Peter Wagner
Dr. C. Peter Wagner is the President of the Global Harvest Ministries and Chancellor of the Wagner Leadership Institute (established in 1998). Prior to this, Wagner and his wife served as missionaries in Bolivia, and from 1971, he was Professor of Church Growth at Fuller Theological Seminary School of World Missions and served on several mission oriented committees and organizations such as Lausanne Committee for World Evangelization and American Society of Missiology.
Wagner has also been associated with several global movements of the Holy Spirit. His outspoken advocacy of praying for the sick, spiritual mapping, identificational repentance, the ministry and role of apostles and prophets in the church today, and demonic deliverance have identified Peter as a pioneer in the arena of spiritual warfare. Perhaps his most significant contribution so far has been his relentless effort to promote strategic and effective prayer.
Wagner has written over 60 books. Those currently in print include: Your Spiritual Gifts Can Help Your Church Grow, Strategies for Church Growth, How to Have a Healing Ministry, Prayer Warrior Series, and Churchquake!
-Editorial Review.