Diviner (#03 in Dragons Of Starlight Series)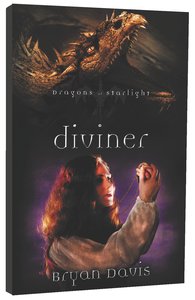 As a Starlighter, Koren knows her destiny is to save her fellow human slaves from the dragons' bondage - but by following the orders of the smooth-talking dragon king, Taushin, has she in fact doomed her people and herself? As Koren struggles over her choices, Elyssa discovers a new aspect to her Diviner gifts when her pendant begins to unlock mysteries surrounding the stardrops from the Exodus star. Soon Elyssa, along with Jason and his father, also discover new truths behind the dragons' prophecy and learn that Randall has teamed with Magnar and Arxad to wage battle against Taushin's followers. With a major war imminent and talk of a new Starlighter in the air, confusion and uncertainty reigns - something Taushin may have planned for all along.



- Publisher
You May Also Be Interested In
About "Diviner (#03 in Dragons Of Starlight Series)"
As a Starlighter, Koren knows her destiny is to save her fellow human slaves from the dragons' bondage - but by following the orders of the smooth-talking dragon king, Taushin, has she in fact doomed her people and herself? As Koren struggles over her choices, Elyssa discovers a new aspect to her Diviner gifts when her pendant begins to unlock mysteries surrounding the stardrops from the Exodus star. Soon Elyssa, along with Jason and his father, also discover new truths behind the dragons' prophecy and learn that Randall has teamed with Magnar and Arxad to wage battle against Taushin's followers. With a major war imminent and talk of a new Starlighter in the air, confusion and uncertainty reigns - something Taushin may have planned for all along.


- Publisher


Meet the Author
Bryan Davis
Bryan Davis is the author of the bestselling fantasy series Dragons in Our Midst, Oracles of Fire and Echoes from the Edge. He and his wife, Susie, have seven children and live in western Tennessee where he continues to cook up his imaginative blend of fantasy and inspiration.
Other Titles In The "Dragons Of Starlight" Series View All