Do Greater Things: Activating the Kingdom to Heal the Sick and Love the Lost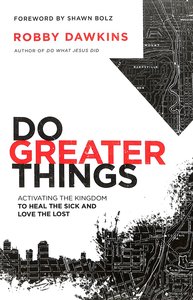 :How to Heal the Sick, Cast Out Demons, Raise the Dead--and More!

The Bible says that if you belong to Jesus, you have the power to:
· heal the sick
· cast out demons
· bring deliverance to those trapped in spiritual darkness
· prophesy in his name
· call forth creative miracles
· receive supernatural words of wisdom and knowledge
· even raise the dead

So why do so many Christians live powerless lives? Why do they operate with so little faith?

Having gone through his own journey from doubt to belief, Chicagoland pastor Robby Dawkins now ministers and speaks internationally, and where he goes, miracles happen. In these pages he shares incredible stories of God using ordinary people to do the impossible. And he shows that, when you begin to have faith in the power of God, take him at his Word, and understand his love for you, you will see his power released in healings, financial blessings, and miracles of all kinds.

- Publisher
You May Also Be Interested In
About "Do Greater Things: Activating the Kingdom to Heal the Sick and Love the Lost"
:How to Heal the Sick, Cast Out Demons, Raise the Dead--and More!

The Bible says that if you belong to Jesus, you have the power to:
· heal the sick
· cast out demons
· bring deliverance to those trapped in spiritual darkness
· prophesy in his name
· call forth creative miracles
· receive supernatural words of wisdom and knowledge
· even raise the dead

So why do so many Christians live powerless lives? Why do they operate with so little faith?

Having gone through his own journey from doubt to belief, Chicagoland pastor Robby Dawkins now ministers and speaks internationally, and where he goes, miracles happen. In these pages he shares incredible stories of God using ordinary people to do the impossible. And he shows that, when you begin to have faith in the power of God, take him at his Word, and understand his love for you, you will see his power released in healings, financial blessings, and miracles of all kinds.
- Publisher


Meet the Authors
Robby Dawkins
Robby Dawkins, born to missionary parents, knew from a young age that God had called him into ministry. He and his wife, Angie, responded to God's call to plant what is now the Vineyard Church of Aurora, Illinois, which they have pastored since 1996, and which uses power evangelism continuously. He has traveled to over 30 countries, including many Muslim nations, helping build the Church internationally. Robby and Angie have six sons and live in Aurora, Illinois. A
Shawn Bolz
Shawn is an international speaker, pastor of Expression58 Church, producer, and author of The Throne Room Company, and Keys to Heaven's Economy, among others. He is well-known for his prophetic accuracy, and he is passionate about bringing God's presence and power into the entertainment industry and the local community. Shawn lives in Los Angeles, California, with his wife, Cherie, and their two beautiful daughters.