Do You Know You're Already Amazing?:30 Truths to Set Your Heart Free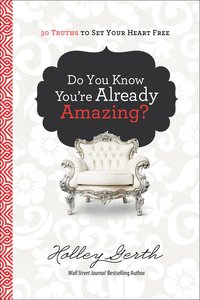 30 Truths That Set a Woman's Heart Free to Become All God Created Her to Be

In this all-new devotional, Holley Gerth encourages women to embrace who they are, become all God created them to be, and discover more of his purposes for their lives. She shares thirty truths from God's Word with insights based on women in the Bible, interactive journaling questions, and engaging prayer prompts for personal transformation and practical application.

"I praise you because you made me in an amazing and wonderful way" (Ps. 139:14). Holley's affirming message reminds all of us that believing the truth about who God says we are leads to praise, not to pride. It also brings joy, hope, and a deeper sense of purpose to our lives. Here's the secret: truth is not just a fact we store in our heads. Truth is Someone we seek with our hearts. Spending time with him and listening to his voice each day changes everything.

You really can live fully in freedom and victory. You really can know you're already loved, valuable, and amazing.

This book is the perfect companion to Holley's bestselling book You're Already Amazing.

- Publisher
You May Also Be Interested In
About "Do You Know You're Already Amazing?:30 Truths to Set Your Heart Free"
30 Truths That Set a Woman's Heart Free to Become All God Created Her to Be

In this all-new devotional, Holley Gerth encourages women to embrace who they are, become all God created them to be, and discover more of his purposes for their lives. She shares thirty truths from God's Word with insights based on women in the Bible, interactive journaling questions, and engaging prayer prompts for personal transformation and practical application.

"I praise you because you made me in an amazing and wonderful way" (Ps. 139:14). Holley's affirming message reminds all of us that believing the truth about who God says we are leads to praise, not to pride. It also brings joy, hope, and a deeper sense of purpose to our lives. Here's the secret: truth is not just a fact we store in our heads. Truth is Someone we seek with our hearts. Spending time with him and listening to his voice each day changes everything.

You really can live fully in freedom and victory. You really can know you're already loved, valuable, and amazing.

This book is the perfect companion to Holley's bestselling book You're Already Amazing.
- Publisher


Meet the Author
Holley Gerth
Holley Gerth is an award-winning author, speaker, counselor, and cofounder of (in)courage- an online home for the hearts of women that received over a million page views in its first year. Holley encourages thousands of readers through her highly popular blog Heart to Heart with Holley, more than 2000 greeting cards written for DaySpring, and in her popular first devotional Rain on Me. She invites women to meet her at www.HolleyGerth.com.