Doing Good Without Giving Up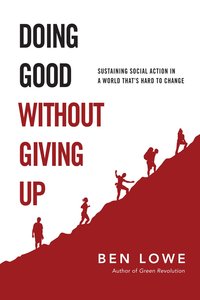 :"Let us not become weary in doing good, for at the proper time we will reap a harvest if we do not give up." - Galatians 6:9If you're working to make the world a better place, you might find yourself discouraged. Needs are overwhelming, resources are limited, opposition is real and progress is slow. How do we persevere when the novelty wears off and our enthusiasm runs out?We all want change in the world. But as C. S. Lewis put it, we don't get second things by placing them first; we get second things by keeping first things first. As Christians, we don't just aim at change; we aim at faithfulness, and out of faithfulness comes fruitfulness.Activist Ben Lowe renews our mission with key postures and practices for sustaining faithful social action. What makes social action distinctively Christian includes such things as living out Jesus' love, having a prophetic witness, building bridges with opponents, repudiating idolatries, and practicing repentance and sabbath. Moving beyond theory, Lowe showcases practical examples of what it looks like to persevere in faithful activism and advocacy today. Take heart. As you work for God, God is at work in you to keep your hope alive.

- Publisher
You May Also Be Interested In
About "Doing Good Without Giving Up"
:"Let us not become weary in doing good, for at the proper time we will reap a harvest if we do not give up." - Galatians 6:9If you're working to make the world a better place, you might find yourself discouraged. Needs are overwhelming, resources are limited, opposition is real and progress is slow. How do we persevere when the novelty wears off and our enthusiasm runs out?We all want change in the world. But as C. S. Lewis put it, we don't get second things by placing them first; we get second things by keeping first things first. As Christians, we don't just aim at change; we aim at faithfulness, and out of faithfulness comes fruitfulness.Activist Ben Lowe renews our mission with key postures and practices for sustaining faithful social action. What makes social action distinctively Christian includes such things as living out Jesus' love, having a prophetic witness, building bridges with opponents, repudiating idolatries, and practicing repentance and sabbath. Moving beyond theory, Lowe showcases practical examples of what it looks like to persevere in faithful activism and advocacy today. Take heart. As you work for God, God is at work in you to keep your hope alive.
- Publisher


Meet the Authors
Ben Lowe
Ben Lowe's views on creation care were shaped early in his life. Growing up as a missionary kid in Singapore/Malaysia, he often dealt with water shortages and bad air quality due to mismanagement and abuse of natural resources. Carrying these experiences with him, he eventually found his way to Wheaton College where he majored in environmental studies and helped organize Wheaton's first national Climate Change Summit. His summers were filled working as an environmental educator with the Massachusettes Audubon Society and as a student researcher for fisheries projects in Corpus Christi, TX and on Lake Tanganyika, Tanzania.
Lowe currently calls Chicago home and works as the cocoordinator of Renewal, a grassroots network committed to equipping this student generation in the compassionate stewardship of all of God's creation. Previously he served as outreach director for A Rocha USA, an international Christian conservation organization, where he helped to mobilize churches and campuses around creation care issues. He is the author of Green Revolution: Coming Together to Care for Creation.
Table Of Contents
:foreword

Begin Here: Prophets Of A Future Not Our Own

part One: Renewing Our Mission

1 Wait, Don't Give Up! 2 Is Social Action Necessary?3 Overcoming Obstacles To Social Action4 Reconciling Evangelism And Social Action5 Transcending The Culture Wars6 Restoring A Faithful Agenda

part Two: Sustaining Our Action

7 Love8 Prophecy9 Opposition10 Idolatry11 Repentance12 Sabbath13 Contemplation14 Communitya Final Word: Onwardacknowledgmentsnotes