Doing the Right Thing (Participant's Guide)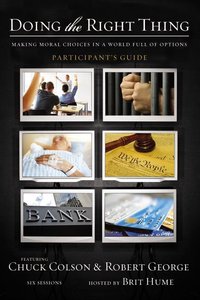 Doing the Right Thing explores the ethical and moral breakdown that is hitting culture from all sides. Through panel discussions, interviews, and live student questions it raises ethical issues in a non-condemning but challenging way, stimulating thought, discussion, and action. The DVD sessions and accompanying participant's guide encourage viewers to examine themselves and how ethical and character issues relate to their lives at home, school, and the workplace. As a result of this discussion and self-examination, participants will exhort each other and promote an ethic of virtue in their spheres of influence and in the culture at large. This examination of ethics consists of six sessions, each designed to be completed in approximately one hour. Each session consists of approximately thirty minutes of video and thirty minutes of discussion. Session topics include: -How did we get into this mess? -Is there truth, a moral law we all can know? -If we know what is right, can we do it? -What does it mean to be human? -Ethics in the market place -Ethics in public life

- Publisher
You May Also Be Interested In
About "Doing the Right Thing (Participant's Guide)"
Doing the Right Thing explores the ethical and moral breakdown that is hitting culture from all sides. Through panel discussions, interviews, and live student questions it raises ethical issues in a non-condemning but challenging way, stimulating thought, discussion, and action. The DVD sessions and accompanying participant's guide encourage viewers to examine themselves and how ethical and character issues relate to their lives at home, school, and the workplace. As a result of this discussion and self-examination, participants will exhort each other and promote an ethic of virtue in their spheres of influence and in the culture at large. This examination of ethics consists of six sessions, each designed to be completed in approximately one hour. Each session consists of approximately thirty minutes of video and thirty minutes of discussion. Session topics include: -How did we get into this mess? -Is there truth, a moral law we all can know? -If we know what is right, can we do it? -What does it mean to be human? -Ethics in the market place -Ethics in public life
- Publisher


Meet the Authors
Robert George (Ed)
Robert P. George is McCormick Professor of Jurisprudence and Director of the James Madison Program in American Ideals and Institutions at Princeton University. He is also the Herbert W. Vaughan Senior Fellow of the Witherspoon Institute in Princeton. He has served on the U.S. Commission on Civil Rights and the President's Council on Bioethics, and was a Judicial Fellow at the Supreme Court of the United States, where he received the Justice Tom C. Clark Award. A graduate of Swarthmore College, he holds J.D. and M.T.S. degrees from Harvard University, and a D.Phil. from Oxford University, in ad
Charles Colson
The well-known story of Charles Colson's transformation from President Richard Nixon's "hatchet man" who was "incapable of humanitarian thoughts" to founder of the Prison Fellowship Ministries and internationally recognized Christian author and speaker is a triumph of God finding a man and a man finding God. His 1973 conversion to Christianity was followed by a guilty plea to obstruction of justice and a seven-month prison sentence in 1974. He founded Prison Fellowship Ministries in 1976, fulfilling a promise made to fellow inmates that he would "never forget those behind bars."
Charles Colson's first book, Born Again, was released in 1976 and instantly became an international bestseller. He has authored many books that have collectively sold more than five million copies worldwide, including Justice That Restores; How Now Shall We Live?; Burden of Truth, Answers to Your Kids; Gideon's Torch; Why America Doesn't Work; Kingdoms in Conflict; and Loving God.
He is also a columnist, international speaker, and commentator on a national radio broadcast. He received the prestigious Templeton Prize for Progress in Religion in 1993 and donated the $1 million prize to the Prison Fellowship's Endowment Fund.