Don't Limit God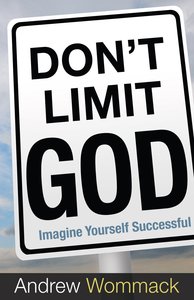 God has more for us than what we are experiencing. We have all limited God in our lives at some point in one way or another. Fear of success, fear of persecution and imaginations are all ways that we limit God. We often see ourselves in a certain way but we have to change that image if we want to experience the abundant life that God has for us. To be able to see big things happen like healing, prosperity in finances and restoration of marriages, you have to let the Word of God paint a picture on the inside of you.

Often, if you meditate on that and let the Word of God work, the limits are taken off and what you are praying to happen, will come to pass. In this book, author Andrew Wommack helps you to recognize the areas that you are limiting God so that you can move forward and fulfill His will for your life. Once you take the limits off God, watch what He will do in you and through you!

- Publisher
You May Also Be Interested In
About "Don't Limit God"
God has more for us than what we are experiencing. We have all limited God in our lives at some point in one way or another. Fear of success, fear of persecution and imaginations are all ways that we limit God. We often see ourselves in a certain way but we have to change that image if we want to experience the abundant life that God has for us. To be able to see big things happen like healing, prosperity in finances and restoration of marriages, you have to let the Word of God paint a picture on the inside of you.

Often, if you meditate on that and let the Word of God work, the limits are taken off and what you are praying to happen, will come to pass. In this book, author Andrew Wommack helps you to recognize the areas that you are limiting God so that you can move forward and fulfill His will for your life. Once you take the limits off God, watch what He will do in you and through you!
- Publisher


Meet the Author
Andrew Wommack
For more than three decades, Andrew Wommack has traveled America and the world teaching the truth of the Gospel with clarity and simplicity, emphasizing God's unconditional love and the balance between grace and faith. He reaches millions of people through the daily Gospel Truth radio and television programs, which are broadcast both domestically and internationally. He can be seen on INSP, DayStar, The Church Channel, Cornerstone, Guardian, God TV, and more than 80 local US channels. Gospel Truth radio broadcast is heard on more than 60 stations nationwide. Andrew Wommack founded Charis BibleCollege in 1994 and has since established CBC extension colleges in other major cities of America and around the world.