Don't Panic Dinner's in the Freezer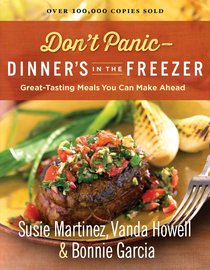 Hectic lifestyles and over-full schedules make traditional cooking methods nearly obsolete in many families. The results are poor nutrition and budgets strained by the high cost of fast food or commercially prepared meals. Don't Panic-Dinner's in the Freezer offers a simple and economical alternative, featuring dozens of recipes designed to be prepared and frozen for future use.

With 100,000 copies sold, this book gives practical tips for planning, organizing, and shopping for meals, as well as unique ways to freeze and reheat prepared foods. Every recipe includes measurements for cooking alone or as a joint venture with one or two friends. Families, singles, retirees-everyone who needs to eat-will find fast and easy answers to the question, "What's for dinner?"

- Publisher
You May Also Be Interested In
About "Don't Panic Dinner's in the Freezer"
Hectic lifestyles and over-full schedules make traditional cooking methods nearly obsolete in many families. The results are poor nutrition and budgets strained by the high cost of fast food or commercially prepared meals. Don't Panic-Dinner's in the Freezer offers a simple and economical alternative, featuring dozens of recipes designed to be prepared and frozen for future use.

With 100,000 copies sold, this book gives practical tips for planning, organizing, and shopping for meals, as well as unique ways to freeze and reheat prepared foods. Every recipe includes measurements for cooking alone or as a joint venture with one or two friends. Families, singles, retirees-everyone who needs to eat-will find fast and easy answers to the question, "What's for dinner?"
- Publisher


Meet the Authors
Susie Martinez
Susie Martinez is the elementary director of Southern Gables Church in Littleton, Colorado. She graduated from Taylor University with a degree in social work. The mother of two, Susie, her family live in Lakewood, Colorado.
Vanda Howell
Vanda Howell attended Colorado State University and now serves as the administrator for the performing arts ministry at her church and sings on the praise team. A real estate appraiser, Vanda, and her family live in Lakewood, Colorado.
Bonnie Garcia
Bonnie Garcia is a graduate of Grace College. A pediatric nurse, she is also the busy mother of three sons. Bonnie, her husband, Steve, and their family live in Denver, Colorado.