Don't Stop Laughing Now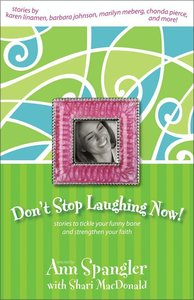 A sequel to She Who Laughs, Lasts!, this book offers the same winning recipe, blending laughter and inspiration, to whip up a delicious blend of fun and faith for readers hungry for more. Contributors include a variety of male and female authors, the most hilarious of whom are Barbara Johnson, Patsy Clairmont, Chonda Pierce, Becky Freeman, and Liz Curtis Higgs.
You May Also Be Interested In
About "Don't Stop Laughing Now"
A sequel to She Who Laughs, Lasts!, this book offers the same winning recipe, blending laughter and inspiration, to whip up a delicious blend of fun and faith for readers hungry for more. Contributors include a variety of male and female authors, the most hilarious of whom are Barbara Johnson, Patsy Clairmont, Chonda Pierce, Becky Freeman, and Liz Curtis Higgs.
- Koorong

The best of the best-stories, one-liners, and jokes from some of today's funniest Christian speakers and best-selling writers This new book, like its best-selling predecessors, is packed with the kind of smiles and smirks, chuckles and giggles that thousands of readers have come to love and expect. It includes some of the funniest stories from today's Christian writers like Barbara Johnson, John Ortberg, Mark Buchanan, Patsy Clairmont, Becky Freeman, Chonda Pierce, and more. Whether the topic is kids, marriage, pets, church, parenting, aging, or life's most embarrassing moments, the writers will help you keep life in perspective by revealing their own foibles, follies, and failings. Realizing that laughter and faith can go hand in hand, they offer real-life anecdotes that will keep your world in balance even-and especially-when life gets tough.
- Publisher


Meet the Authors
Ann Spangler (Ed)
Ann Spangler is the author of many bestselling books, including Praying the Names of God, Praying the Names of Jesus, and Women of the Bible (with Jean Syswerda). An award-winning author, Ann's books appeal to a broad spectrum of readers interested in honestly exploring the connection between spiritual experience and everyday life. She and her two daughters live in Grand Rapids, Michigan.
Shari Macdonald (Editor)
Shari MacDonald recently ran toward love with arms outstretched. Thankfully, the object of her affections did not flee, and as a result she is the happily married wife of photojournalist Craig Strong. The newlyweds live in Portland, Oregon, with their escape-artist dog, Ellie, who likes to run toward cats with paws outstretched. Shari is a best-selling author of several inspirational romances, including Sierra, Forget-Me-Not, Diamonds, and Stardust.
Barbara Johnson
Barbara Johnson, known as "the Geranium Lady" sold more than five million books, including Splashes of Joy in the Cesspools of Life, Living Somewhere Between Estrogen and Death, and Stick a Geranium in Your Hat and Be Happy and her latest book Humour Me, I'm Over the Hill, part of her more recent, Humour Me series. In 2005 she was awarded the prestigious Lifetime Achievement Award by the Evangelical Christian Publishers Association. Barbara and her husband served hurting families through their non-profit "Spatula Ministries" and as a popular "Woman of Faith" conference speaker she delivered comforting, humour-filled messages across America. Barbara died in 2007 and is survived by her sons David and Dean, former daughter-in-law Shannon, and two grandchildren, Kandee and Tiffany.- Publisher.
Patsy Clairmont
Patsy Clairmont comes from an uncommon background. Her years of suffering as a prisoner in her own home, a victim of agoraphobia, have given her a deep appreciation of God's healing power. God has pulled together the emotionally fragmented pieces of her life. From her emotionally troubled background God has combined her humor and her knowledge of His word to remind you that imperfect, "cracked" Christians are God's specialty.
Patsy now travels throughout the U.S. providing humor for the heart and hope for the healing. Currently, she is a speaker with the Women of Faith conferences, speaking to tens of thousands of women each month. In her eleven years with Women of Faith she has reached over 3 million women.
Patsy is also the author of the best-selling books God Uses Cracked Pots; Normal is Just a Setting on Your Dryer; Under His Wings; Sportin' a 'Tude; Tea with Patsy Clairmont and Pillow Prayers.
Thelma Wells
Thelma Wells is a popular author, speaker and businesswoman. As an African-American woman, Thelma was instrumental in bringing racial diversity to the Women of Faith conferences. Thelma has had her own television show, been an assistant vice president of a bank, and an inspirational public speaker/business consultant. SPANISH BIO: Thelma Wells es una conferencista popular de Women of Faith (Mujeres de fe) y presidenta de A Women of God Minsitries(Ministerios de una mujer de Dios) de Dallas, Texas. Ha recibido mas de doscientos galardones por participacion civica en la comunidad, en la iglesia
Luci Swindoll
Luci Swindoll is author of Celebrating Life and a co-author of various Women of Faith devotionals. She has served as a business executive of Mobil Oil Corporation and as vice president with Insight for Living.
Sheila Walsh
Freedom is something Sheila Walsh holds dear because she knows what it means to be bound by depression and fear. The author of multiple best-selling books for adults and children, including the Gigi series; God Little Princess series, Sheila is also a Grammy-nominated singer. Before joining Women of Faith, she co-hosted television's The 700 Club and had her own talk show "Heart to Heart with Sheila Walsh". Sheila lives in Texas with husband Barry, son Christian, and a menagerie of furry friends.
Marilyn Meberg
Marilyn Meberg is a captivating speaker who shares the gospel through her hilarious tales and heart-touching stories. The author of several books including I'd Rather Be Laughing and Choosing the Amusing. Marilyn taught for 10 years at Biola University, later earning a master's degree in counselling pyschology and launched a second career focussed on helping people with hurting souls. A vibrant speaker with the phenomenally popular Women of Faith Conferences. She lives in Palm Desert, California
-Publisher.


Becky Freeman
Becky Freeman is an award-winning, best-selling author, national speaker and humor columnist, and a certified teacher and recent recipient of the Texas AandM Alumni Award in education for her contribution to the world of children's learning. Her many books include Mom's Everything Book for Daughters, Mom's Everything Book for Sons, Help! I'm Turning into My Mother, Milk and Cookies to Make You Smile, and Lemonade Laughter and Laidback Joy. Becky lives in Highlands Ranch, Colorado.
Karen Scalf Linamen
Karen Linamen is the author or coauthor of seven books, including Pillow Talk and Happily Ever After. Two of her books have received recognition as finalists for the ECPA Gold Medallion Award. A contributing editor for Today's Christian Woman magazine and author of more than one hundred magazine articles, Linamen is a frequent speaker at churches, women's retreats, and writers' conferences.
Chonda Pierce
Chonda Pierce is a speaker, comedian, author, singer, preacher's daughter, wife, and mother of two. She is author of It's Always Darkest Before the Fun Comes Up and I Can See Myself in His Eyeballs, and she has performed on more than a dozen recordings. Chonda lives in Murfreesboro, Tennessee with her husband and two children. Visit her website at www.chonda.org.