Duchess (#03 in Daughters Of Fortune Series)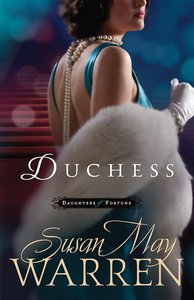 The Golden Age of Hollywood is in the business of creating stars. Rosie Worth, now starlet Roxy Price, has found everything she's wanted in the glamour of the silver screen. With adoring fans and a studio-mogul husband, she's finally silenced the heartache of the past. Her future shines bright?until the fated Black Friday when it all comes crashing down. When Roxy loses everything, she finds herself disgraced and penniless. Her only hope is to join forces with Belgian duke Rolfe Van Horne, a longtime film investor. But Rolfe is not who he seems, and he has other plans for Roxy and her movies?plans to support a growing unrest in Europe, plans that could break her heart and endanger her life. When her country needs her, will Roxy have the courage to surrender her glittering world and her one true love?

- Publisher
You May Also Be Interested In
About "Duchess (#03 in Daughters Of Fortune Series)"
The Golden Age of Hollywood is in the business of creating stars. Rosie Worth, now starlet Roxy Price, has found everything she's wanted in the glamour of the silver screen. With adoring fans and a studio-mogul husband, she's finally silenced the heartache of the past. Her future shines bright?until the fated Black Friday when it all comes crashing down. When Roxy loses everything, she finds herself disgraced and penniless. Her only hope is to join forces with Belgian duke Rolfe Van Horne, a longtime film investor. But Rolfe is not who he seems, and he has other plans for Roxy and her movies?plans to support a growing unrest in Europe, plans that could break her heart and endanger her life. When her country needs her, will Roxy have the courage to surrender her glittering world and her one true love?
- Publisher


Meet the Author
Susan May Warren
Susan Warren recently returned home after serving eight years with her husband and four children as missionaries in Khaborovsk in Far East Russia. Susan holds a BA in mass communications from the University of Minnesota and is a multipublished author of novellas and novels. Susan has an amazing gift for writing complex plots and weaving powerful Christian content throughout her stories. She and her family live in Northern Minnesota.